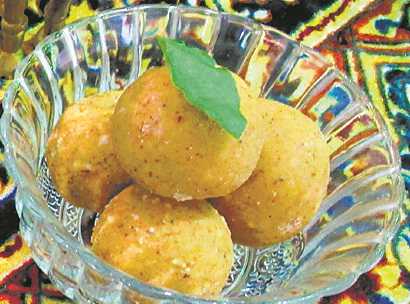 Krishnaraj Iyengar
This September, the celebrative spirit enlivens India's commercial capital Mumbai. Ten rainy days of tradition, devotion and sacred sumptuousness mark Maharashtra's Ganesh Chaturthi. Idols of Ganesha are brought home and worshiped for either all of the 10 days or less, depending on the devotee's belief. At the end of the sacred period, the idol is carried to the seafront or any waterfront accompanied, in an elaborate procession, by heart-pounding Marathi rhythms followed by the immersion of the idol in water.
While exotic incenses and devotional music are an essential aspect of worship during Ganesh Chaturthi, the Naivedyam prasad consists of exotic traditional preparations unique to Maharashtra and its rich culinary repertoire. Modak, a rice or wheat-flour serrated dome-shaped outer shell with sweet fillings or just a single homogenous piece sans fillings, is a Maharashtrian sweet synonymous with Ganesha. This, along with an entire specially prepared meal, is generally offered to the deity as prasad.
Aarti Bagwe, a Mumbai-based veteran cook, prepares a mouth-watering platter for her beloved Ganpati bappa. She explains the nuances of each delicacy with utmost patience. Her lunch menu is quintessentially traditional. Rushi chi bhaaji, prepared on the occasion of Rushi Panchami, is a dry and highly nutritious mix of 11 different vegetables such as pumpkin, ladyfinger, bitter gourd, corn, French beans and pointed gourd (parwal).
Varan bhaat, a signature Maharashtrian delight, is placed besides the bhaaji. A rich yet simple toor dal seasoned with salt and turmeric powder, varan is generally mixed with rice (bhaat). A fresh green chutney made of ground coconut, coriander, fresh mint, lime, garlic and peanut paste is a fine accompaniment to the bhaakhri, a hearty rice flour roti.
While Ganesha's favourite dishes are arranged on a banana leaf, a special place is reserved on the platter for undira la kheer, a milk, rose water and semolina dessert topped with cashew nuts, almonds and saffron, affectionately offered to Ganesha's vehicle, the mouse (undir)! "We have been following an age-old family culinary tradition. Each family would have its uniquely delectable style of prasad, the mark of its individuality. These recipes are handed down the generations and bear an endearing history of passion, devotion and dedication," explains Bagwe.
Besides mouth-melting besan cha laadu (pulse flour laddoo), she prepares three varieties of modak. These include tandula cha modak or ukadiche modak, a succulent steamed rice modak with a thick rice flour crust and coconut, jaggery and cardamom filling; piste cha modak, a rich, homogenous modak with sweetened and layered pistachio; and one with a hint of chocolate.
While the Naivedyam menu can vary each day, Gauri pooja on the fifth day of the festival is of special importance. A lavish traditional meal is prepared in the honour of Gauri, Ganesha's mother. The women folk of the community are generally the honoured guests.