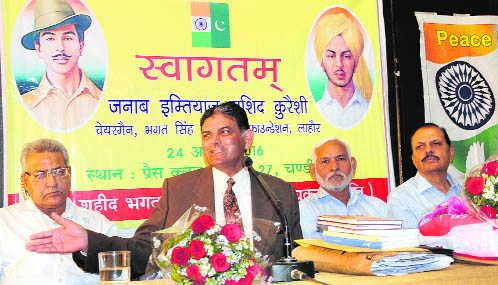 Tribune News Service
Chandigarh, April 24
The Punjab Government today announced to bear the entire expenditure on the purchase of Shaheed Bhagat Singh's house and its conversion into a world-class memorial at Chak No 105 GB (now Bangay village) in Lyallpur, Pakistan.
Chief Minister Parkash Singh Badal offered support for the initiative to the chairman, Bhagat Singh Memorial Foundation, Imtiaz Rashid Qureshi.
Qureshi had filed a writ petition in the Lahore High Court to reopen the martyr's case, whose trial had led to his execution along with Rajguru and Sukhdev in the Lahore jail in 1931.
Badal said Bhagat Singh's house at Bangay village, where he was born, would be developed as a monument to perpetuate the martyr's legacy across the globe.
Qureshi said Bhagat Singh's legacy should not be restricted to India and Pakistan. He hoped that this initiative would strengthen the bonds of goodwill and friendship between the people of both countries.
Declared a heritage site two years ago, Bhagat Singh's birthplace was thrown open to the public last month. On his martyrdom day (March 23), activists of Lyallpur gathered in the village for the Sardar Bhagat Singh Mela. The Pakistan Government has spent around Rs 5 crore (in Indian currency) on the preservation of the house.
Top News
The 58-year-old OBC leader served as minister for higher edu...
Article 370 was a temporary provision, says CJI as Bench pro...
Supreme Court upholds abrogation of Article 370, calls for p...
The Supreme Court, in its judgement on Monday, supports the ...
In a series of posts on X, Shah, the architect of the entire...