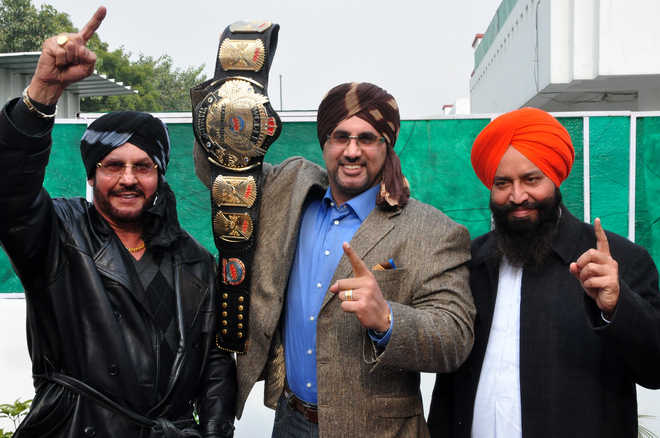 Tribune News Service
Chandigarh, January 6
Former Canada-based professional wrestler Tiger Jeet Singh will promote sports to save youth of Punjab and Haryana from drug addiction.
While talking to mediapersons at the residence of Bakhshish Singh Virk, Chief Parliamentary Secretary, Haryana, he said they were in touch with the Haryana Government to promote sports. He was accompanied by his son Tiger Jit Singh Junior.
He said they would get associated with the government to organise sports events in Haryana and Punjab so that youth could be saved from drug addiction.
He said they would also sponsor good players from different sports and help Haryanavi wrestlers to take to professional wrestling.
He said since he was born and brought up in Punjab, he owes a lot to this region.
"It is painful to see young people destroying their life due to drugs," he said.
"I have earned a lot of money, I have everything, he said, but now, it is my turn to give it back to my own people.
Virk said he had a meeting with Governor Haryana Kaptan Singh Solanki today. He also ensured them to extend every support they require.
Earlier in Canada, he was running the Tiger Jeet Singh Foundation, which has worked among the terminally ill people. At present, along with his son Tiger Jit Singh Junior, he has been spreading anti-drug message among thousands of parents and children across the world.
Top News
Congress' state in-charge says the party is tipped to get th...
Launches attack against nepotism and graft; seeks collective...
Says Congress will oppose attempts to put leaders like Gandh...
Chandrashekhar Harbola was part of a 20-member troop that wa...
One attack occurred at a minority habitation in Chadoora in ...