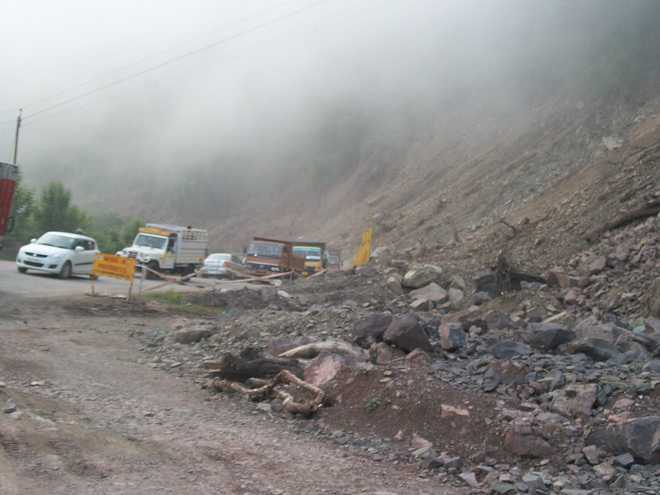 Ambika Sharma
Tribune News Service
Solan, October 3
With the private construction agency, GR Infra Limited, failing to use water sprinklers to reduce the dust emissions while four-laning the Parwanoo-Solan stretch of National Highway-22, commuters travelling on this road are forced to put up with high air pollution.
A visit to the highway revealed that the company staff did not sprinkle water to reduce the dust emissions either from its crusher or the hot mix plant installed on the highway. Even the sites where large-scale excavation activity was under way there were no water sprinklers. Huge plumes of dust could be seen near the excavation sites which were adding to the air pollution considerably.
Though the Environment Impact Assessment (EIA) report submitted by the executing agency, the National Highways Authority of India (NHAI), had spelt out an exhaustive environmental mitigation plan to reduce the level of dust emissions, its implementation appears to have been conveniently forgotten.
A copy of the EIA report available with The Tribune revealed that the agency had stated that all precautions to reduce the level of dust emissions from the hot mix plants, crushers and batching plants and other transportation of materials will be taken up. Water will be sprayed on earthworks, temporary haulage and detour roads on a regular basis. The hot mix plant will be fitted with dust extraction units. It shall be ensured that the dust emissions from the crusher and vibrating screen at the stone quarries do not exceed the emission standards set by Central Pollution Control Board. A slew of measures supposed to be undertaken also included plantation around periphery of the hot-mix plants. No such plantation was noticeable even a year after the project had begun.
Further, to ensure the efficacy of the mitigation measures suggested, air quality monitoring was also supposed to be undertaken and emission level of all vehicles, equipment and machinery used for construction is supposed to confirm to the conform to the State Pradesh Pollution Control Board norms. There was little adherence to the norms and the state agencies preferred to turn a blind eye to the violations.
Dr Suresh Attri, Senior Scientific Officer, Department of Environment, Science and Technology, which is supposed to ensure compliance of the EIA norms, said if the conditions laid down in the EIA were not adhered to, action could be initiated against the agency.