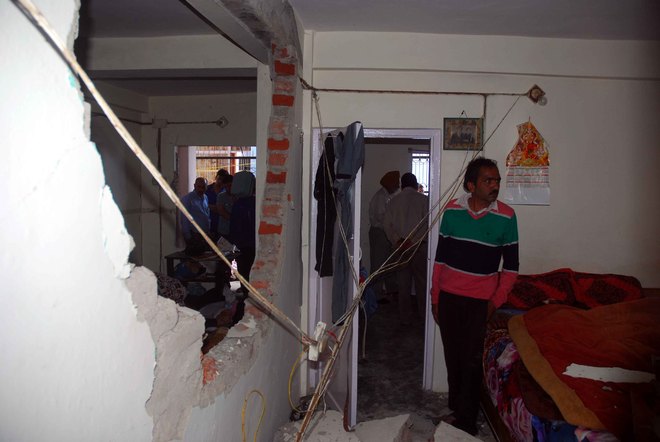 Bhanu P Lohumi
Tribune News Service
Shimla, May 13
Panic gripped Annandale here as a major explosion, likely to be due to LPG cylinder leakage, rocked the house of BJP spokesman Ganesh Dutt at Thakur Bagh early this morning, injuring four persons, one of them seriously.
The blast occurred around 6:25 am in a one-room set in the ground floor of the three-storey building and the tenant Thakur Das Verma (45) received serious burn injuries while his wife Reena and two children, Arun (8) and Lalita (10) who sustained minor injuries, were rushed to the IGMC Hospital.
Verma, hailing from Sunni of Shimla district, was working as pharmacist in a laboratory and had shifted here about two months back.
The concrete wall and window of the room blew off due to explosion while the upper stories developed cracks and windowpanes of adjoining buildings smashed and crumble into pieces. The railings of the buildings were damaged and the belongings of Verma were scattered all around in the room.
Owner of the house Ganesh Dutt said, "We heard a deafening sound early this morning and rushed out only to find the main door, wall and adjoining railing damaged and belongings scattered all around". Dutt said the possibility of some chemical reaction or mischief by some anti-social element could not be ruled and put the loss to property at more than Rs 5 lakh.
However, initial investigations by the police suggested that the incident took place due to leakage in LPG cylinder as there was no residual of burning of any chemical. Forensic experts had the similar opinion but said the exact cause of explosion would be ascertained only after tests.
There was no damage to the kitchen or the cylinder. The lack of ventilation resulted in the fire and the blast sound spread through the common passage. The victim Thakur Das Verma told the police that he got up in the morning by a phone call and after that went to the kitchen and when he switched on the immersion rod, the blast occurred, police sources said.
A case has been registered under Sections 285, 336 and 337 of the IPC for negligent conduct with respect to fire and endangering life or personal safety of others and investigations are under way. SP Shimla DW Negi, who visited the spot, said preliminary investigations pointed to leakage of gas as the cause of explosion.
Senior Medical Superintendent at IGMC Ramesh Chand said Verma sustained 60 per cent burn injuries while his family members, who sustained minor injuries, were discharged after first-aid treatment.
Top Stories