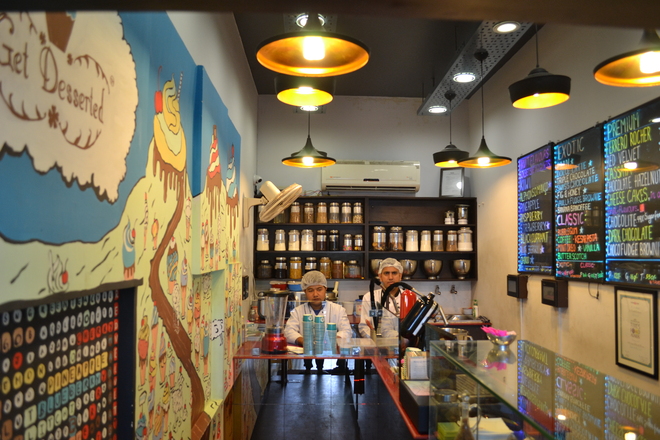 Aditi Garg
Summer becomes bearable at the mere thought of a delicious, frozen treat; or two. The call of the ice cream or kulfi vendor is in itself sheer joy for it pays in dollops. As mince pies and paninis found a place amid samosas and burgers, ice creams have got company as well in the form of gelatos, sorbets and frozen yogurts. International tastes are finding acceptance and producers are readily tweaking them to incorporate local preferences and churning out unusual flavours.
Just desserts
Many countries claim to have invented the ice cream but it is really difficult to pin point the exact place of origin. However, some evidence points to an early second century BC origin of ice cream. In its earliest forms, it had nothing to do with dairy and was more of an iced drink like sherbet, sweetened with honey and flavoured with fruit. Any resemblance to the ice cream that we know and relish today came into existence less than five centuries ago. It became widely available in supermarkets and stores only as recently as the 20th century.
In India, the iconic kulfi was introduced by the Mughals. Made with snow, harvested from the Himalayas, it was prepared with reduced milk and was introduced to the royal kitchens during the reign of Akbar. There are equally mouth-watering delights that have originated elsewhere in the world, such as gelato, sorbets, paletas, yogurts and more. In the age of jet-setting travellers, no taste is foreign and the market for global iced desserts is getting wider.
Glocal flavours
When you get tired of the regular vanilla, chocolate, strawberry and butterscotch flavours, try international flavours with refreshing twists and true blue Indian innovations. Choose between salted caramel or gulkand gelato, if you please.
Nirav Momaya, CEO of Gourmet Gelato Company which runs the Amore Gelato chain based in Mumbai, says, "Founded in 2006, Amore is Mumbai's first gelateria. Truly Italian, it remains the only gelato chain in India with technical leadership and partner participation from an expert gelato chef. It has a full range of gelatos and sorbets as scoops, sticks, bonbons and cakes. Our niche clientele is willing to pay a premium for quality and a constant innovation of flavours. While flavours such as chocolate, saffron, almonds, blueberry, hazelnut, exotic fruits are a hit, kesar-pista latte, gulkand cashew & royal kulfi are our best selling Indian offerings, a testament to the glocal cuisines of today."
Fresh and natural
One of the biggest trends in desserts, and in food in general, is fresh, local produce as the main ingredient. It is something all ice cream and gelato producers seem very particular about and going by their popularity, they have it right on spot. Khushboo Goel of Amadora, one of the hottest ice cream spots in Chennai, says, "People here are more willing to try out new flavours and in line with our mantra 'Eat Local, Eat Fresh', we serve a wide range incorporating fresh ingredients sourced directly from producers. Around three years ago, we started with eight flavours. We now offer 275 flavours, of which some are regular and others are seasonal. The newest local spin using fresh ingredients is the burnt brown rice ice cream which indulges the love of kheer. Our range includes ice creams, ice cream sandwiches, ice cream cakes, choco-bars, sorbets and paletas in flavours like coconut, malted milk, caramelised white chocolate, brownie fudge ice cream, orange and strawberry." For ice cream makers like Amadora, it is a labour of love that bears fruit in the form of great customer response.
Style matters
The freshest and tastiest desserts become better when done in style. A small Ice cream parlour in Chandigarh, Get Desserted, is set to define how it is best done. As an under-graduate in Los Angles, Udit Kahitan (23) loved the concept of ice cream prepared and served fresh for every customer. He came back and set up a place in partnership nine months back. He says, "Being prepared in front of you ensures that every scoop is absolutely fresh and 100 per cent customisable. Using liquid nitrogen to set our ice creams, sorbets and yogurts we create any flavour that our customers ask for, including protein shake powders as base that customers get and ask for. They get to choose how dark or sweet their chocolate should be. With new flavours introduced every week, we have got a heart-warming response."
Branded vs artisanal
Even with branded products claiming a major chunk of the sales pie, the buzz word across the food industry is artisanal. A large number of customers are willing to shell out more money than what branded products sell for, for a unique experience. It has seen the growth of brands like Sucres Des Terres in Mumbai that hand-mix their ice creams in small batches. The focus is on flavour, freshness and quality. Kunali, of the husband wife duo Kunali Chandaria Dattoobhai and Yohaan Dattoobhai, of the company, says, "It was a happy accident that I created the dessert for a private dinner and from there, aided by word of mouth, it turned into what it is today. We try to make the most of local flavours and locally available produce in our ice creams, gelatos, sherbets or sorbets. The price initially was a bit of an eye-raiser but with the first taste, we had converted customers into loyal clients. We only use fresh fruit, organic milk, and the finest chocolate, resulting in high quality and consistent flavours. In a tie-up with Le15 Patisserie, we are offering the city's first ice cream macaroons too."
Tickling the local fancy
Flavours that find connect with people are the ones that work the best. The connection may be childhood memories, favourite flavours, acquired tastes or travel experiences. Amadora's and Sucres Des Terres' flavours are drawn from such experiences. Khushboo says, "We tend to pick up fresh local flavours from abroad and use them as the base of our ice creams. This has a lot of customers dropping by frequently to check what the latest is. Everyone loves a good play on the palette. Our best sellers include a trifle pudding ice cream which is inspired by the South Indian staple by the same name, as well as things that are totally non-Indian such as the Nutella ice cream. The enthusiasm of our clients has egged us on to do a wide range of choco-bars that spans over eight flavours. Local flavours include a kala jamun flavour with chunks of gulab jamun and a gheelicious cake ice cream!"
Tell your gelatos from your sorbets
Ice Cream - Has at least 10 per cent milk fat that gives it its creamy texture and is tastier.
Frozen dessert - Contains vegetable fats and is cheaper to make. Many popular brands serve not Ice cream but frozen desserts; just try reading the small print of the box.
Gelato - It has lesser fat and air and is served at a higher temperature making it denser and more flavourful than ice cream.
Yogurt - Made from yogurt with added flavours and fruits, it is tarter than ice cream.
Sorbet - It is dairy free and has no air incorporated into it. Mainly, frozen flavoured and sweetened water.