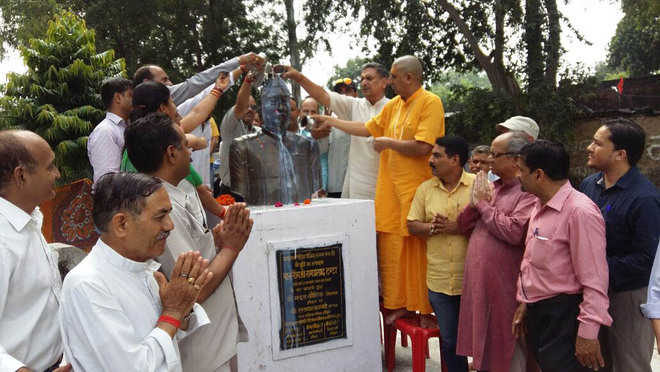 Tribune News Service
Haridwar, September 10
Floral tributes were paid and meetings were organised to mark the 129th birth anniversary of former Union Home Minister and veteran freedom fighter Gobind Ballabh Pant here today.
People remembered the legendary freedom fighter, who is the lone recipient of Bharat Ratna from Uttarakhand.
Pahadi Mahasabha office-bearers anointed a statue of Pt Pant with milk and demanded handing over the management of the park from the Municipal Corporation to them. District Magistrate Harbans Chug said we should learn hard work and sincere continuous efforts from Pant.
"Pandit Pant showed his political and management skills in his early years. He was an eminent lawyer who worked for poor and common people. Though he had a rural background he showed what hard work, self confidence and knowledge could do. Pant was close to Mahatma Gandhi and as Union Home Minister brought recognition to Hindi," said Chugh
At the Uttarakhand Kranti Dal camp office, party's central media secretary Uday Ram Semwal said Pt Pant was born at Khooth village in Almora district on August 30,1887. He became the Chief Minister of the joint province of northern states on September 10,1946. He used to celebrate the day as his birthday to mark the victory of Indians in the freedom struggle.
"Pt Pant was close to Mahatma Gandhi, Jawaharlal Nehru, Subhas Chandra Bose and Sardar Ballabh Bhai Patel. He was jailed several times for his active participation in the Indian freedom struggle. Be it Salt movement, Quit India movement or Satyagraha movement, Pt Pant led from the front," said Mahavir Negi, general secretary of the Pahadi Mahasabha.
JP Badoni, president of the Pahadi Mahasabha, termed Pt Pant as a true statesman and son of the Himalayas.
Top News
Over 250 win from 411 wards | BJP wiped out in P'kula AAP c...
20-yr-old killed while crossing road on cycle