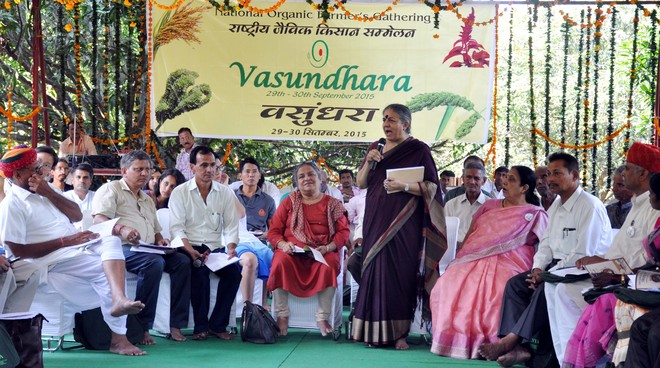 Jotirmay Thapliyal
Tribune News Service
Dehradun, September 29
Genetically engineered seeds, use of chemical-based fertilisers and pesticides and climate change are taking a toll on farmers.
Panduranga Hedge, a farmer from Karnataka, said 500 farmers had committed suicide in Karnataka in the past six months. He said most of these suicides had been due to farmers taking to cash crops and getting lesser returns. Hedge said not even one farmer who was into organic farming had committed suicide so far, thus revealing the better returns involved in organic farming.
Rampal Jat, a Kisan Mahapanchayat leader from Rajasthan, said the rising cost of production and lesser returns were affecting farmers the most. He said,"A farmer who grows a kg of paddy at a cost of Rs 25 gets just Rs 8 for it as sale price."
He admitted that organic farming certainly seemed to be the sole hope for Indian farmers, whose produce today stand destroyed due to the use of chemical-based fertilisers. Pawan Mishra from Vidarbha in Maharashtra said farmers in the region took to BT cotton hoping for higher productivity. "But in return they ended up with high cost of production and a little profit", he added.
Climate change is hurting farmers. Organic farming expert Kusum, who comes from Balasore in Odisha, said farmers in her state were suffering the most due to climate change.
"The weather pattern has changed drastically. Rains have reduced and their frequency is also erratic. This ultimately affects farmers", she said.
Sanjay Malik from Jharkhand alleged that the governments were least concerned about farmers' plight. Sanjay said after failing to get passed corporate-friendly land laws, the Centre might now target the country's forest wealth to benefit the corporate sector.
Expert take
Although mechanised farming has led to high productivity, lower prices for produce is adversely affecting US farmers, with some of them resorting to suicides. — Ronnie Cummins, national director, organic consumers association
Nearly 500 farmers have committed suicide in Karnataka in the past six months. Most of these suicides have been due to farmers taking to cash crops but getting lesser returns. — P. Hedge, farmer from Karnataka
A farmer who grows a kg of paddy at a cost of Rs 25 gets just Rs 8 for it as sale price. Organic farming certainly seems to be the sole hope for Indian farmers now. — Rampal Jat, farmer from Rajasthan
Climate change is hurting farmers. Farmers in Odisha are suffering the most due to this. The weather pattern has changed drastically. Rains have reduced and their frequency is also erratic. This ultimately affects farmers. — Kusum, from Odisha
The governments are least concerned about farmers' plights. — Sanjay Basu Malik, from Jharkhand