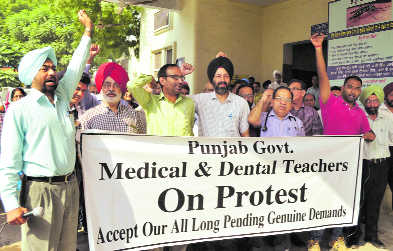 Tribune News Service
Patiala, October 19
Government medical and dental teachers in Punjab are up in arms against the state government for its failure to accept some of the long-pending demands of the faculty.
A one-hour protest meeting was held today at Rajindra Hospital by doctors of government medical and dental colleges here to lodge their protest against the state government for its step-motherly treatment to the teachers.
The protesters raised slogans against Punjab Chief Minister Parkash Singh Badal and his adviser Dr KK Talwar for ignoring the faculty on all fronts.
The major demands of the teachers include time-bound promotions, increase in retirement age to 65 years, earned leave, vacations and holidays and other local problems.
According to Dr DS Bhullar, General Secretary of the Punjab State Medical and Dental Teachers' Association, time-bound promotions were a simple matter and could be resolved easily.
Similarly, the age of retirement in all private and government medical colleges in North India, including AIIMS-New Delhi, PGI-Chandigarh and Guru Gobind Singh Medical College under Baba Farid University of Heath Sciences, which was earlier under Punjab Government, is 65 years, except the colleges under the Punjab Government.
"The Punjab Government has utterly failed to follow the guidelines of the Medical Council of India and the directive of Prime Minister Narendra Modi by not increasing the retirement age of its medical and dental faculty to 65 years. If the state government fails to take the corrective measures by increasing retirement age of its teachers, it will result in acute shortage of faculty in the coming months in violation of the norms of the Medical Council of India," he said.
The faculty urged the Chief Minister to intervene personally for getting their demands fulfilled or else they would be forced to intensify their protest in the coming days.