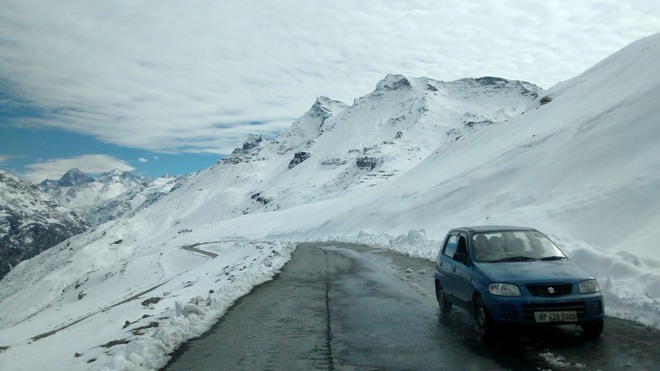 Pratibha Chauhan
Tribune News Service
Shimla, November 13
Under pressure from the National Green Tribunal (NGT) to ply eco-friendly vehicles on the ecologically fragile Manali-Rohtang route, the state government has given its consent to the Union Ministry of Heavy Industries for purchase of 10 electric buses and simultaneously hold trial run for maxi cabs made by Mahindra and Mahindra in different terrain of the state.
These electric buses, to be imported from England by Leyland would cost Rs 2 crore each. Such buses are plying in Bangalore.
The Union Ministry of Heavy Industries has agreed to provide 75 per cent subsidy while the remaining cost will have to be borne by the state government.
"The success and suitability of the electrically propelled vehicles in hilly terrain is yet to be tried and tested. But yes we have sent in our consent to a scheme by the Union Ministry of Heavy Industries for 10 buses," confirmed Ajay Mittal, Additional Chief Secretary, Transport. He added it is yet to be decided on which these buses would be plied, besides the 51 km Manali-Rohtang route.
The NGT has banned plying of diesel and petrol vehicles between the popular tourist destination of Manali-Rohtang. The NGT has directed the state government to explore the possibility of running eco friendly CNG and electric buses. However, no automobile company has so far guaranteed the safety and suitability of these eco-friendly vehicles to save the area from environmental degradation.
The issue of setting up of charging stations would be another task before the state government as a fully charged battery would be able to cover only a distance of about 110 km. While the time to fully charge a battery is about eight to nine hours, experts have suggested that the effectiveness of a fully charged battery is reduced by almost 40 per cent in colder climes.
The only solace is that Himachal is a power surplus state with very reasonable electricity charges but in the electric vehicles the battery alone cannot be removed and taken for charging as the entire bus or maxi cab will have to be stationed at the charging station.
As such the utility of these vehicles would be limited as they will have to be stationed for eight hours after they get exhausted after running for 110 kms for charging.
Top News
Over 3,000 tourists from various parts of country reported t...
Third top leader of AAP nabbed by a central agency in a year...
Bench led by Justice Sanjay Kishan Kaul directs Centre to fu...
Indian javelin star threw 88.88m, a season's best, to clinch...
Agency alleged Kapoor received money for performing at the w...