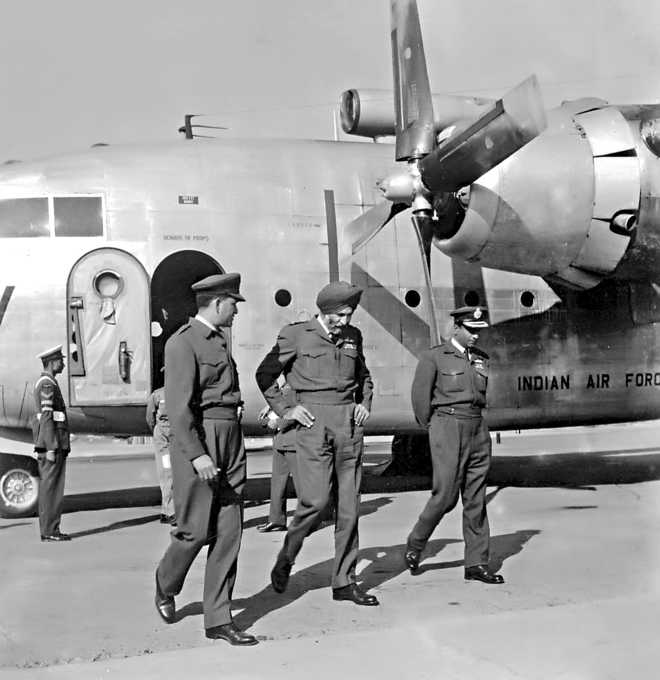 Roopinder Singh
The mettle of Chief of the Air Staff Arjan Singh, DFC (Distinguished Flying Cross), was to be tested in the 1965 War against Pakistan. He had led the numerically stronger Indian Air Force (IAF) for over a year, and now it was pitted against what was regarded as the technologically superior Pakistan air force. The IAF was chaffing because it had been allowed only limited operations during the 1962 skirmish with China. Now it was unleashed, to devastating effect.
A measure of success of the Indian Air Force is that at the end of the war, the rank of the Chief of the Air Staff was raised to that of Air Chief Marshal. Arjan Singh thus served as the IAF Chief for a record five years. In 2002, he was made Marshal of the Indian Air Force — a five-star appointment he holds for life. The 96-year-old MIAF spoke on a number of issues regarding the 1965 War.
How the air war started
"I was in Vayu Bhavan when General J. N. Chaudhuri said the Army needed air support. He had come from Srinagar and wanted to blunt the Pakistani attack on Chhamb Jaurian, which could have cut off vital installations and given the enemy an upper hand.
"We went to Defence Minister Y. B Chavan to seek permission for an air attack, because once the air force comes in, the engagement becomes a war.
"Now Chavan was a man of decision, a Maratha leader, who had served as the first Chief Minister of Maharashtra. He asked me "Can you do it?"
"We just can. If you give orders now, we may be able to attack before night." (The IAF then lacked night combat equipment).
"Chavan promptly gave the orders without even consulting the Prime Minister and we launched three sorties from Pathankot that day. Vampires of World War II vintage were used. The first wave of four Vampires took off at 1719 hrs, as soon as they got orders. They inflicted considerable damage on the enemy tanks, unfortunately also hitting some Indian troops. We lost one Vampire to ground fire in this attack.
"The second sortie of four Vampires was attacked by Sabre (F-86) jets of Pakistan Air Force which were vastly superior in performance and armament. We lost three Vampires in this air battle, with one managing to escape. The fourth sortie did not encounter any aircraft and attacked enemy men and materials.
Vaulting over Pir Panjal
"The air attack was meticulously planned. Our aircraft from Agra used to go to Chandigarh to refuel. From Chandigarh, we used to take off at such a time that the aircraft would fly over Kashmir Valley on the right side of Pir Panjal, a high mountain that provided cover against radar detection in Pakistan.
"We used to go over the Pir Panjal near Peshawar catching the enemy unawares. We penetrated deep into Pakistan territory and attacked Peshawar, Quetta, Rawalpindi, Sargodha and other Pakistan cities. The IAF disrupted Pakistan army's supply lines and attacked more than 70 trains. After the Tashkent agreement, we were asked to visit each other's countries, and I went to Peshawar. Malik Nur Khan, Commander-in-Chief of the Pakistan Air Force, and I knew each other and he was quite frank in his discussions. He also showed me the place, a few hundred yards from his house, which had been destroyed by our bombing. He showed me the trenches in his house and said: "That is where we spent our time."
Interaction with Shastri
"Our instructions from Prime Minister Lal Bahadur Shastri were simple, "avoid hitting civilian targets", and we never targeted civilians. Shastri as Prime Minister and I as air chief used to live a few hundred yards from each other. Our son, who is now settled in America, often used to have dinner with the Shastri family. The Prime Minister's wife would cook the dinner and the family ate together in the traditional fashion.
A short war
"The 1965 War was too short for us. I was disappointed when the ceasefire was announced because in my opinion the war was going on well for us. We were able to attack every place in Pakistan, while they could not send planes beyond Ambala! They could not even reach Delhi, let alone Mumbai or Ahmedabad. We had minimal causalities in the Air Force."
---
Read more in '50 Years of 1965 War' special: