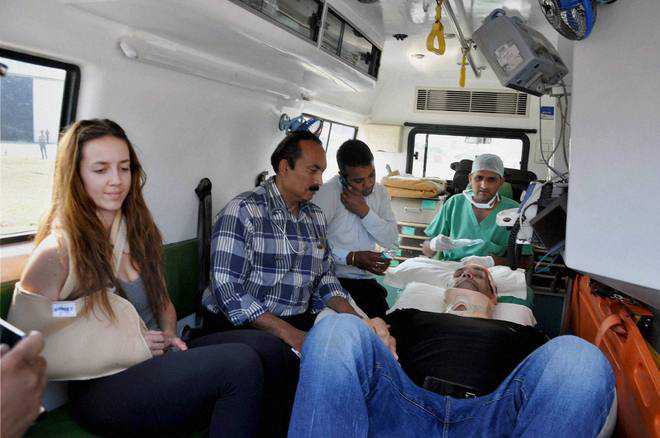 BD Kasniyal
Pithoragarh, February 25
WWE wrestler The Great Khali was injured during a wrestling bout with Brody Steele from Canada at the international stadium in Haldwani yesterday.
Sources said Brody Steele and his fellow wrestlers allegedly targeted the Indian wrestler after they feared they were lossing the bout. The match was abandoned due to the scuffle.
Khali suffered injuries on the head and the left eye and was admitted to a local hospital in Haldwani, the sources said.
The Great Khali was having an upper hand in the fight when Brody Steele's companions Mike Knocks and Lion escorted Steel out of the ring. When the Great Khali tried to get Steel back into the ring, all three foreign wrestlers attacked him and hit him with a chair, causing him injuries," said J Raju, a local journalist covering the fight.
The freestyle wrestling event in which known wrestlers of the world participated was organised by the state government to promote tourism.
Earlier, six freestyle wrestling matches were played between the WWF wrestlers from across the world. Justin Garvin from South Africa won the first match by defeating Brian Cage from the USA. The second match was won by German Manual Figura from Puerto Rico.
"Bulbul, an Indian wrestler, was declared the winner in the women's category," Raju said.
Top Stories