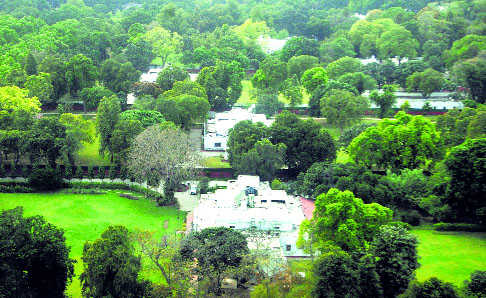 The latest 2013 State of Forest Survey puts India's forest cover at 21.23 per cent of its geographical area. The figure, some believe, could reduce to almost half if plantations, orchards and urban parks are excluded from the definition of a "forest" by the Centre.
That would open up these green belts to commercial use as no permission will then be needed to cut trees. Is that what the BJP-led NDA government intends to do in its zeal to push industrial activity in land that was hitherto out of bounds? Isn't the threat of losing crucial green cover real since forest land is already being diverted, legally and illegally, across the country?
Environment Minister Prakash Javadekar says that "the government is working on the definition of 'forest' on the instructions of the Supreme Court" so that a precise definition ends the confusion that prevails. His ministry's views stem from the report of the TSR Subramanian Committee, which essentially wants narrowing the scope of what constitutes a "forest".
"States have been asked for their opinion, some have replied," Javadekar told The Tribune.
Environmentalists, however, fear that the opportunity to formulate a new definition might lead to the exclusion of good forest areas, turning the clock back to the time when forests were largely tracts of land under the government's possession. The concern is that the definition will leave out a good part of what is now considered as forests. Like trees on private land and plantations, and even green belts that came up after the Forest Conservation Act of 1980.
India at present does not have a definition of "forest". What it follows is the dictionary meaning, as instructed by the Supreme Court: a dense growth of trees and shrubs covering a large area. The term "forest cover" includes all lands with a tree canopy density of 10 per cent and above and a minimum area of 1 hectare.
The Forest Survey Report-2013 does not make any distinction between the origins of forest land (whether natural or manmade) or tree species and encompasses all types of land, irrespective of ownership, use and legal status. Thus, all tree species and all areas — forest, private, community or institutional land — meeting the criteria are termed "forest cover".
Javadekar's recent televised comment — "notified forests and those with good canopy will be defined as forest" — is what triggered the debate on the issue. A re-debate rather, since the Supreme Court had 19 years back asked for a definition of "forest".
Two issues at play
One is to clearly define what "forest" means considering the legal and other complications arising in its absence.
Equally significant is the fact that the matter (of finding a definition) is carrying on since December of 1996. On the Supreme Court's order that year on what constitutes a forest, states were asked to set up committees to identify forests. Some did, others didn't. Since "forest" and "forest land" are not defined even in the Indian Forest Act of 1927 and the Forest Conservation Act of 1980, the apex court instructions on the issue are holding ground. These say "forest land" in the Forest Conservation Act will not only include forest as understood in the dictionary sense, but also any area recorded as forest in the government records, irrespective of the ownership.
Defining 'forest' not easy
Though the aim is to formulate a definition that takes into account all aspects — ecological, legal and directions of the Supreme Court — leading environment lawyer Ritwick Dutta says defining forests is not easy, especially in a country as diverse as India.
The problem, he says, is that any statutory definition may encourage social forestry, but also carry the risk of diversion of degraded forest land for industrial purposes. "Or worse, exclude some good eco-systems from the definition." So, what many environmentalists, including Dutta, are essentially fearing is that the NDA government might exclude some good forest areas and good eco-systems from the
Definition of forests.
"Forest land could have been any area which is ecologically viable," he says. "It is difficult to define forests at the national level. What could be forest in one state would be different in the other. What could be called dense forest in Ladakh would be different in Kerala. The definition should be based on ecology, be site-specific. Mango or coffee plantations on forest lands may not be forests. However, it is different in areas like the foothills of the Aravalli range or Manger (in Haryana) where a lot of natural forests exist on private land, some of which have already been exploited," he says.
Dutta fears that the BJP-led regime wants lesser area designated as forests to facilitate construction of roads and mining. "It wants to limit the definition to open up more areas," he says. "Ideally, they should allow the states to come up with their individual definition," he adds.
Interestingly, in a reply to Parliament, Environment Minister Javadekar asserted that "ecological services that flow from a plantation, orchard and an urban park are different from that which flow from a natural forest".
Panel's recommendations
Environmentalists are reading the Minister's comment on a new definition in context of the recommendations of a panel headed by former cabinet secretary TSR Subramanian, appointed by the NDA to review six green laws. One of its recommendations was to define "forest". It suggested that the government should exclude the plantations raised on private land by any individual or agency.
"Formulating a statutory definition of 'forest' is an unresolved issue. Citizens and private institutions are reluctant to invest in forestry or plantations, apprehending loss of their land being declared as forest," it observed.
"On the other hand, there is a need to encourage non-forest, non-government land holders to engage in plantations. This includes public sector units, which keep large tracts fallow. Even if afforested, such land may not be treated as 'forest' falling under the definition of the laws," it suggested. The panel did recommend state-specific parameters instead of a uniform national criteria for what constitutes a forest cover, but was clear that "forest" should not include any plantation raised on private land.
It also wanted an explanatory note that "forest" means any forest notified under the Indian Forest Act and any land recorded as forest and not used/broken before October 25, 1980.
Environmentalists worry that a statutory definition may result in exploitation of forests land and green belts near cities. Their fears are real. Across the country, forests land is being diverted.
As per the government's own admission, it routinely gives permission to divert forest land for industrial projects. The Forest Approval Committee of the ministry approved diversion of 15,999 hectares between July and December last year, Javadekar told Parliament.
The Centre between 2004 and 2013 accorded approval for diversion of 3,43,909 hectares in 13,891 cases under the Forest Conservation Act for various categories of projects. In the NCR region, over 14,254 trees have been felled in the past two years for different projects.