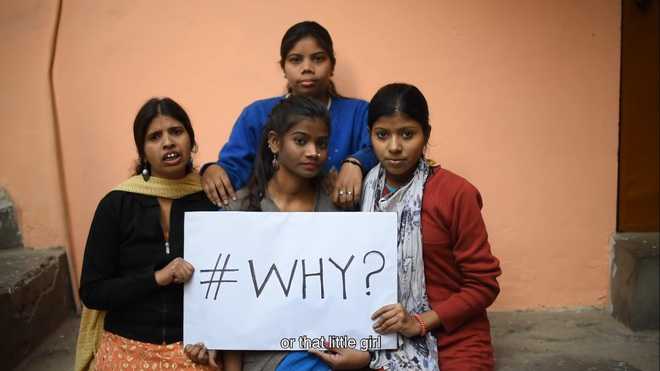 Syed Saad Ahmed
Hum Khadar ki ladkiyan, suno hamari baat. As they stare into the camera and sing in unison, one cannot help but hum along. Their gaze is determined, their words eloquent and their message commanding.
They belong to Madanpur Khadar, one of the many slum resettlement colonies on the periphery of Delhi. In the music video Khadar ki Ladkiyan, they sing about the lack of infrastructure in their neighbourhood and the patriarchal constraints, sexual harassment and violence they encounter.
"We don't have regular water supply, a proper sewage system, sanitation or parks where women can hang out. It is difficult for girls to step out of the house at night. Their families get worried about their safety," says Jagriti, who wants to inspire women to live on their own terms through the video. The 19-year-old is an admirer of Lata Mangeshkar and aspires to become a teacher.
The music video is part of Gendering the Smart City, a project helmed by Ayona Datta from King's College, London, in collaboration with Jagori, an NGO, and Safetipin, a social enterprise. Ayona started a WhatsApp diary with a group of 11 girls from Madanpur Khadar to document their everyday experiences, digital lives and how they negotiate public spaces.
"During a workshop, we discussed how we could creatively tell our stories through selfies; our participants are avid selfie-takers. I showed them viral videos, such as South Delhi Girls, and asked them how they would describe themselves in relation to their locality. That was when they began talking about Khadar ki Ladkiyan. I felt it should reference the thriving grime music scene of these settlements," she says.
Shooting the video was often challenging. They had to shoot multiple takes for a single five-second line and at times, with zero success. While they were initially awkward about shooting in their neighbourhood, people eventually began recognising them on the streets, making them feel like celebs.
Ritu Singh, a student of MA Hindi, says, "I hope it inspires girls to come out of the house, fight societal constraints and achieve their potential. This is just the first step. The film is yet to come."
Top News
Harried passengers take to social media to vent their ire at...
Lapid had stirred a massive controversy by terming Vivek Agn...
Final turnout to be higher as voting process continued at po...
DigiYatra will provide seamless entry and embarkation proces...
His song 'Mahakaal' removed from YouTube after 19 hours