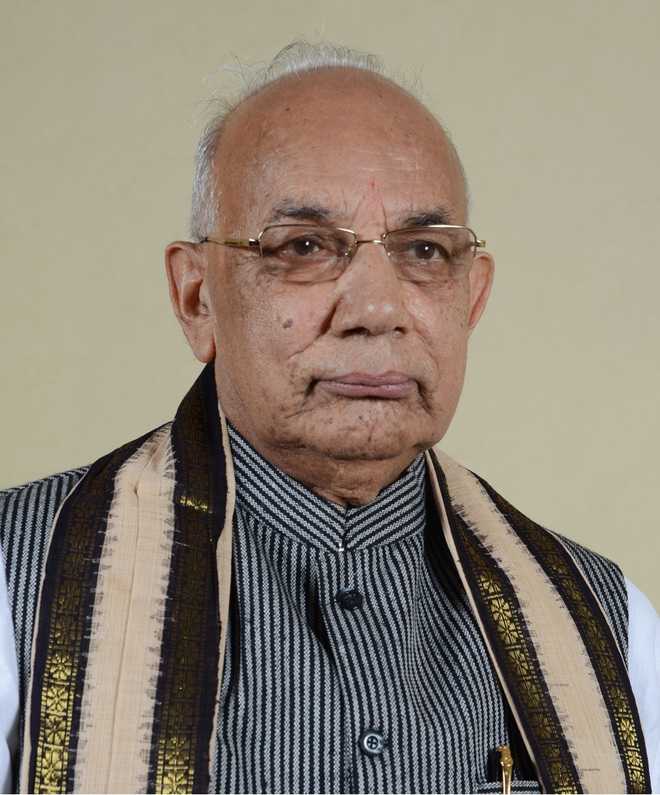 Geetanjali Gayatri
Tribune News Service
Chandigarh, March 14
The Haryana Assembly today passed a resolution condemning the passage of a Bill denotifying the Sutlej-Yamuna Link canal land by the Punjab Vidhan Sabha. Haryana Governor Kaptan Singh Solanki, also the officiating Governor of Punjab, assured the Assembly that "nothing unconstitutional would be allowed".
The Governor, in his address, said the government was "committed to obtaining its legitimate share of Ravi-Beas waters and the completion of the SYL". He added that due to the government's efforts, the matter of Presidential Reference, which had been hanging fire for 11 years, had been taken up for regular hearing by the Supreme Court. The opening day of the Budget session witnessed drama as Congress MLAs boycotted the Governor's Address on grounds that Solanki, in his address in the Punjab Assembly, had spoken of safeguarding its riparian rights.
The treasury Benches hit back at the Congress for "insulting" the Governor by bringing a resolution suspending all 14 Congress MLAs present in the House for disrupting the address. The Indian National Lok Dal was also condemned for doing the same. Some legislators raised anti-government slogans and tore the copies of the address while being escorted out of the House.
As soon as the Governor arrived, the Congress began protesting the address by Solanki. They claimed he had spoken of safeguarding the riparian rights of Punjab and staged a walkout. Leader of Opposition Abhay Chautala sought an assurance from the Governor that he would not sign Punjab's Bill denotifying land for the SYL.
The Governor, before beginning his address, reiterated he would do "whatever is constitutional".
Solanki said the legal recourse was always an option. "Reading the Governor's Address is my constitutional duty. However, I have always been hearing you out and will continue to do so," he said.
The Congress MLAs, after the walkout, staged a sit-in outside the Assembly and returned to participate in the obituary references.
Health Minister Anil Vij, however, criticised the disruption of House by the Congress. Parliamentary Affairs Minister Ram Bilas Sharma moved a resolution seeking suspension of Congress MLAs and condemning the INLD. The resolution was seconded by Chief Minister Manohar Lal Khattar and passed.
The Congress MLAs were escorted out by marshals amidst sloganeering, while Khattar offered to withdraw the condemnation of the INLD if its leaders apologised for interrupting the Governor's Address.
---
The government is committed to obtaining its legitimate share of Ravi-Beas waters and completion of SYL. - Kaptan Singh Solanki, Haryana Governor
Top Stories