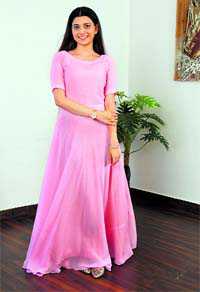 Jasmine Singh
Some four to five years back, if you'd asked who the leading female singers of Punjab were, the counting wouldn't have gone beyond Miss Pooja! Toss the same question today, and we will fish out the names of more than 10 female singers who are giving a 'good takkar' to their male counterparts. Okay, they probably have less live shows on their event charts; nonetheless their songs make it to every party play list.
Bright, beautiful and talented, we bet you want to put the tracks of these female singers on a repeat mode. While you do it, we also tell you what has led many women singers to the forefront.
Proving a point
Ruling the bandwagon is young talented singer Kaur B, who can give any leading Punjabi singer a run for their songs! Nimrat Khaira, Jenny Johal, Sunanda Sharma, Anmol Gagan Mann, Jasmeen Jassi, Rupinder Handa, Jasmine Sandlas, Simar Kaur are equally talented, who have kept the tenor of their voices intact and high! Kaur B, who has worked with the top names in Punjabi music industry, shares that her struggle as a singer has been less, "but as a female singer I had to prove myself twice than the male singers. And once I did that, I was accepted as a professional singer who is here to stay here for good."
Kaur B is known for her tracks Mitran De Boot, Shikaar, Phulkari, Main Geet Purane Sundi Han, Killer Eyes, Attwadi, Kaurizm, Zulfaan De Naag.
It's show time for us
Nimrat Khaira from Batala made her debut with Ishq Kacheri in 2016, and within days of the video release the track had more than a lakh hits. The same holds true for yet another singing sensation Sunanda Sharma whose track Billi Akh touched over 10 lakh likes and over a million views in less than a month of its release! "If I were to go about doing everything on my own, right from selecting lyrics to video director, it would be really tough as a woman, but hiring a good management firm like I did makes my job easier," shares Nimrat.
But it is not just about management. Women singers do not rule out talent as the only thing that makes or will make them as popular as the male singers. "If a woman singer shows versatility in her music, if she can sing folk, pop or any genre, well, then no one can stop her from shining."
We can sing all
Selecting a particular kind of song, shooting the video in a certain way, women singers leave no stone unturned to make sure that their songs hit the target audience. "Just because I am a girl doesn't mean that I should sing only soft romantic numbers. I can sing all kinds of chakwein songs like male singers do. In fact, I can do better than them" adds Sunanda, whose song Patake has crossed 10 million mark.. According to these women singers, making a mark in this industry is tough, but once you prove your worth with the songs and style, there is indeed no looking back.