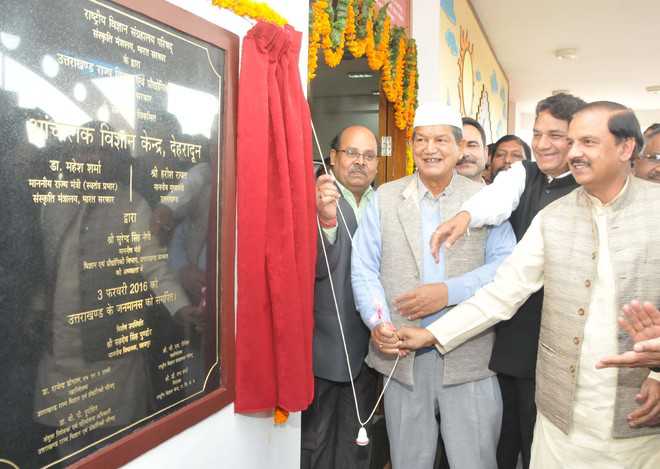 Tribune News Service
Dehradun, February 3
Union Minister for Culture and Tourism Mahesh Sharma today expressed happiness at the inclusion of the Himalayan gallery in the Regional Science Centre building in Dehradun.
Sharma inaugurated the Regional Science Centre at Jhanjara today. He said the Regional Science Centre Dehradun was the latest among regional science centres that had come up in the country.
He said the Himalayan gallery in the Regional Science Centre building was one of its kind in the country and would provide to visitors all information regarding the Himalayas that too in an interesting way. The centre would help in publicizing science in the region, he added.
The Chief Minister said the Regional Science Centre has the potential of developing into a tourism spot. The centre strengthened the status of Dehradun as an educational hub.
Uttarakhand Science and Technology Minister Surendra Singh Negi said the state and Central governments had contributed equally towards setting up the Regional Science Centre in Dehradun. National Council of Science Museums (NCSM) Director General GS Rautela said this centre was the 48th centre in the country and also one of the best.
Uttarakhand State Council for Science and Technology (UCOST) Director General Rajendra Dobhal and Sahaspur MLA Sahadev Singh Pundir also addressed the gathering.
Mona Bali coordinated the proceedings. UCOST senior scientists Dr BP Purohit, Dr DP Uniyal and a large number of schoolchildren were present on the occasion.
Top News
Asks not to spread fake news amid reports of her distancing ...
'US-India partnership is a cornerstone for a free and open I...
Rehana Fathima, a woman's right activist, was facing charges...
On August 3, 1991, Congress leader and brother of former MLA...
Injured admitted to hospital in Imphal where their condition...