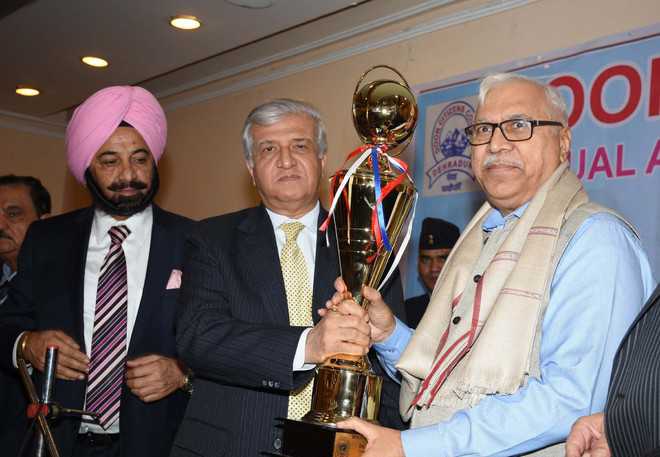 Tribune News Service
Dehradun, November 30
Governor KK Paul here today honoured various people, including actress Himani Shivpuri and Dr Rajendra Dobhal, Director General of the Uttarakhand State Council for Science and Technology (UCOST), for excellence in various fields.
He gave away the Pride of Nation award to former Chief Election Commissioner SY Quraishi, the Pride of Uttarakhand award to journalist Dr Anjali Nauriyal, classical dancer Arushi Nishank, actress Himani Shivpuri and UCOST Director General Dr Rajendra Dobhal, and the Pride of Doon awards to Maanas Lal, a painter, Olympian Manish Rawat and Shaila Brijnath of the Aasraa Trust.
"Such awards inspire others to pursue excellence, besides recognising dedication and hard work of those being honoured," said the Governor at the award function organised by the Doon Citizens Council here on Wednesday.
He congratulated all award winners. The Governor also appreciated the Doon Citizens Council for having instituted these awards. "This is a city that has been traditionally known for its writers and artistes–a city of literature and culture-and having such award functions here will strengthen this atmosphere," he said.
"This is a great way to encourage those who pursue excellence in life. It encourages others to emulate them as well. So it encourages, recognises and inspires people.
He said the council had made efforts to educate people on important issues of national interest and taken up matters of common and general interest with government departments, organizations and officers concerned to seek redress of these matters. He added that the council could give a forceful voice to citizens and play an important role in local administration.
"The contribution of the council to the social climate of Dehradun is immense and it deserves appreciation. It can work for development of various social aspects of the city and it surrounding areas," said the Governor. To general awareness among people, the council can think in term of organising monthly or quarterly seminars on various subject of public importance.
He said, "Dehradun is one of the few cities in India that witnesses a high level of educational and intellectual activity. Its people are highly educated, learned and vocal. It is also one of the largest educational hubs in the country, known specially for its schools".
The Governor said the role of the citizens council in such a distinguished city was extremely important and should include various social aspects. "The council should make constant efforts to create a positive and progressive environment among people of the city.
Top Stories