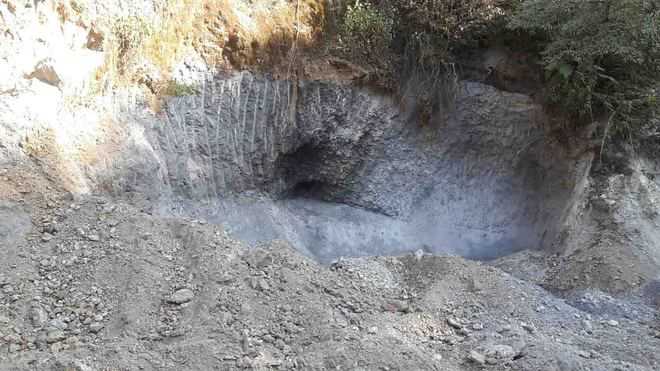 Ajay Ramola
Tribune News Service
Mussoorie, January 18
Illegal mining continues unabated in Mussoorie, especially during night hours. The worst affected areas include MacKinnon Cart Road, Jharipani, Suva Kholi, Bhatta and Kyarkuli.
The mining mafia is drilling into mountains to get limestone, a valuable mineral resource.
Residents alleged that the illegal activity was being carried out in connivance with Forest and Mining Department officials.
"In the 80s also, mountains in the Lambi Dhar and Chuna Khala areas were scarred beyond recognition. Later, the Save Mussoorie Committee was formed to spread awareness among the local people and seek their cooperation in keeping a check on such activities. The authorities also swung into action and constitutes investigation teams to bring the guilty to book. In 1996, all mining activities were banned following the Supreme Court's directions," said an elderly resident. He said the mining mafia had become active again in the region and officials had turned a blind eye to the menace.
"Nearly 20 utility vehicles loaded with boulders and pebbles are taken outside Mussoorie every day, especially during night hours. However, no action has been initiated in this regard so far. Last year also, people had complained of illegal mining activities in the Cart MacKinnon Road area. However, they were told that the contractor was not engaged in mining activity but was widening the road."
Another local resident said the road widening work had almost completed now. However, illegal mining continued unabated at various stretches on the road. Raw material was being supplied to builders involved in various construction activities here.
DFO, Mussoorie division, Dheeraj Pandey, said a committee headed by a range officer forest would be formed to investigate the matter.
He said mobile teams would be constituted to raid the places where illegal mining was going on.
Top News
Boris Johnson, 58, will remain in charge at 10 Downing Stree...
Jha, who was posted in Itanagar, was under the surveillance ...
At a one-hour meeting in Bali, Jaishankar and Wang look forw...
Delhi Chief Minister Arvind Kejriwal, Raghav Chadha, Sanjay ...
During searches at multiple premises belonging to accused, N...