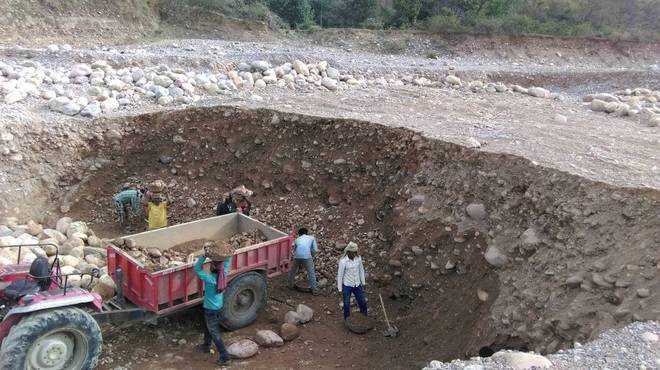 Ravinder Sood
Jaisinghpur (Palampur), May 10
Despite a complete ban on mining in the state and subsequent orders of the National Green Tribunal (NGT), the administration has so far failed to check illegal mining going on in the rivulets of the remote Jaisinghpur subdivision of Kangra district.
Because of apathetic attitude of the mining and forest departments, other state agencies and the local administration, the illegal mining has flourished in this remote subdivision of the district for the past three years. Heavy machinery is being used for extracting mining material from local rivulets in gross violation of rules. In many rivulets, the level had gone from 10 to 15 ft deep which can cause flash flood during the rainy season.
However, owners of stone crushers claimed that they had valid lease permits granted by the state government, therefore, they were extracting mining material from the rivulets. They claimed that they had already shown their documents to the officials of the Mining Department when they visited the areas last week. However, the department said only two stone crushers had lease allotments from the state government.
Despite repeated requests made to the Mining Department, it has not provided the details of how much area have been leased out to stone crushers and where it is situated. Most of the crushers have been indulging in mining in all parts of the rivulets.
However, as per the directions of the NGT and the state government, the mining authorities are bound to earmark the area allotted for mining with red flags all around so that illegal mining is not done outside the leased area.
During a visit to the rivulets of Jaisinghpur where large-scale mining was reported, there was no visible marking of the area allotted for mining.
The representatives of six panchayats demanded that the area under lease should be earmarked in the presence of revenue officers, members of panchayats and local residents so that they could come to know which area had been allotted for mining.
Last year the High Court has treated a news item appeared in The Tribune related to illegal mining in Palampur as PIL and appointed two senior advocates to assist the court in this regard and also sought regular status reports from the government.
Residents demanded that the High Court should also take cognisance of the large scale illegal mining going on in Jaisinghpur area.