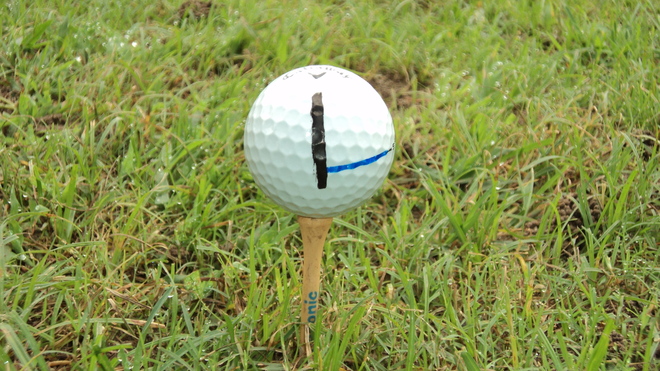 Jesse Grewal
When the impact with the ball is from the heel of the club, the club head twists, creating gear effect, which makes the ball start to the left (for right-handed golfers) and then slice. The heel impact is the worse of the two off-centre impacts (toe and heel), as it leads to a substantial loss of distance. This effect is more pronounced with the driver because it has a curved surface (bulge), which increases the gear effect on an off centre impact.
Impact from the heel could have many causes. If the club is too long for the golfer, which can be the case for many as drivers are now 46 inches long as compared to the old 43-inch drivers it, would lead to a heel strike. Holding the club shorter could improve the impact point on the club face. Standing close to the ball could also be a factor. Swing faults which lead to this could be an excessively in-to-out swing, early extension and dipping or going down with the body. When the club approaches the ball from an inside path it tends to swing outwards or away from the body through impact, which leads to heel strikes or shanks with an iron. An in-to-out swing would normally produce a hook but the heel strike can make the ball slice.
Early extension is a common problem too. The gluteous muscles help the hips rotate around a fixed axis both on the back-swing and follow through. Weak glutes lead to the hips moving towards the ball during the swing thereby reducing the space between the body and the ball (pictures 2 & 3). This leads to heel strikes.
When the body centre goes down either on the backswing or during the downswing it brings the upper body closer to the ball, thereby throwing the clubs arc outwards leading to a heel strike.
To check the impact position either use Dr Scholl's foot spray on the club face or use a marker pen on the ball. Take washable marker pen and draw a line or a dot on the ball and position it so that the mark leaves an imprint on the club face at impact (picture 1). If the mark is on the heel ascertain which of the above faults apply to you and make the necessary corrections with the help of your professional.
(Grewal has coached several national champions and professionals apart from being coach of the Indian golf team for the Eisenhower Cup (World Cup) in 2008. He is currently the Director of National Golf Academy of India and CGA Hero Honda Golf Academy. If you have any queries get in touch with him at parexcellence@tribunemail.com)