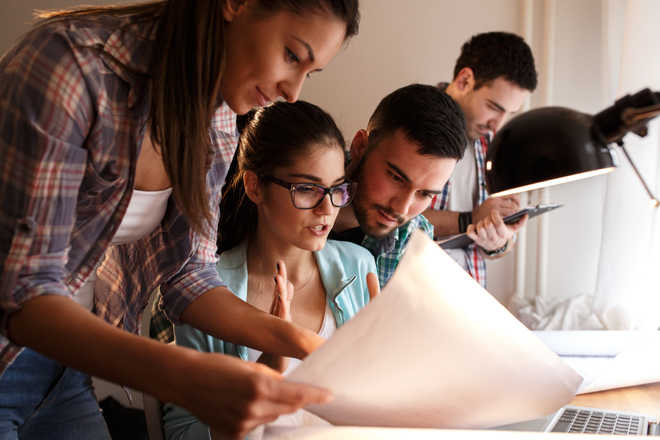 Nitin Gupta
Irrespective of nature, size, location or target audience, every business is dependent on advertising to achieve its sales and revenue targets. That's why, when most of the industries are suffering from reduced demand and profit margins, the digital advertising industry seems unstoppable. As per the latest industrial report based on the joint study by CII and KPMG, the Indian Digital Advertising industry is experiencing a whopping growth of 33.5 percent (CAGR), which is even higher than the global industrial growth of 10 per cent. These trends and figures clearly portray that this immensely dynamic industry is full of lucrative job opportunities for people with relevant knowledge and skills.
Options
Digital Advertising industry is very diversified and dynamic, and there are dozens of specialised areas based on specific objectives and functionalities. Primarily there are four major departments that form a professional digital advertising industry. Like the traditional agencies that comprise Creative, Account, and Client Servicing departments, digital agencies have one more department which is known as Analytics. People who work in this department must have knowledge of Programmatic, Data Analysis, Patten Analysis, and RTB, etc. Every department has its own value, and a seamless coordination among the all four makes a campaign effective as well as successful.
So, the roles and responsibilities of the individual vary according to needs of the department they are employed to serve. Hence, one must have relevant qualifications and knowledge of the department one is seeking to acquire a job in.
Getting in
There is a long list of marketing and communication colleges that offer full-fledged programmes in Digital Marketing/Advertising. From 3-year graduation course to fully professional PGDM and other diploma/certificate courses, one can enrol in the course as per one's interest, ambitions, and skills.
If you are good at art and love to play around colours and illustrations, then of course you must get into a professional course in designing. But if one is fast in analysing data, comprehending the numbers, and observing the patterns, then of course he/she has a great future in Programmatic.
People who can't attend a college due to hectic routines can take online courses as per their convenience. These online courses are equally in demand, and if one is pursuing a course under the mentorship of an industry expert, then job opportunities may come in volumes.
A rewarding career
The most sought-after positions in the Digital Advertising industry are Media Manager (Programmatic), Programmatic Account Manager, and Client Acquisition Manager. The package for these positions varies from company to company, and the qualification and competitive skills of an applicant play major roles during the salary negotiation. On an average, fresher usually earns an annual package in between Rs 2.4 - 2.6 lakh, professionals with 2-3 years experience are offered a package in the range of Rs 4.8 - 7.2 lakh, and those who have an experience of 4 to 5 years can easily get a good package Rs 9.6-13 lakh. Besides, if one has strong analytical abilities, a sound understanding of the traditional and interactive media planning elements, quick in developing the relationship with programmatic buyers, trading desks and DSP's, and possess excellent written and verbal communication skills, then nothing can stop a person in making big bucks. Undoubtedly, Digital Advertising is an avenue full of growth and career opportunities for decades to come.
— The writer is Co-Founder & CEO, Xapads Media Pvt. Ltd
Top News
Says strength of democratic institutions to figure in discus...
BKU protests as sunflower not procured on MSP
Kuki insurgents target soldiers' camp in school
NCB unearths pan-India trafficking | 6 held, all in their 20...