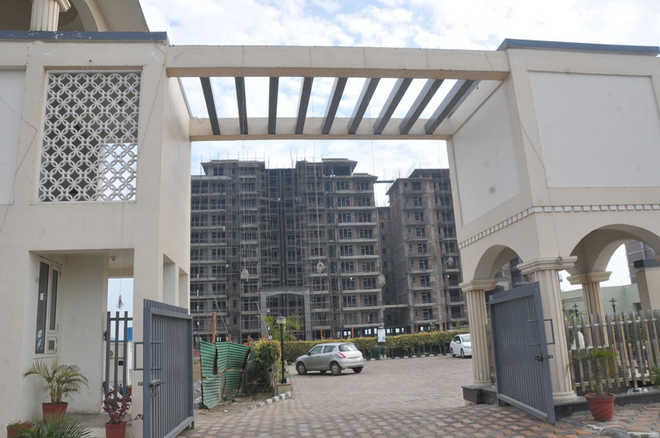 Parveen Arora

Karnal is among the cities in Haryana that have been in the grip of a severe slowdown in the realty sector for over two years now. In spite of having a number of positive factors like proximity to Delhi and Chandigarh, location on NH-I , presence of a number of agricultural and other educational institutes, property prices as well as the development of new real estate projects have remained at an all- time low here.
There has been a significant drop in demand here and according to market watchers there has virtually been no sale-purchase in the city and its vicinity in one of the worst slowdowns so far. End users as well as investors have remained reluctant to enter the real estate market because of the paucity of funds, say local property experts.
Land of no gains
Karnal, however, has seen better days as there was a boom in the property market here three years ago when the prices were at their peak, but with the decline in demand the property prices have fallen by almost 30 to 40 per cent in most of the areas of the district. Tehsildar Hari Om Attri said the rates of the property were down due to the slump. Even, the rates in sectors have also declined by 25 to 30 per cent for last three years. People were waiting for further slump to invest in this market.
"I had purchased a plot in CHD City for Rs20,000 per sq yd in 2011. But now the price of the same has dropped and is between Rs13000 and Rs15000 per sq yard", says Vir Vikram Kumar, former president of Karnal Property Dealers' Association. The situation is no different in other areas and in projects of other builders in and around the city. For example in Ansal Town the prices have decreased from Rs15,000-Rs17,000 per sq yda couple of years ago to Rs 9,000-Rs11,000 per sq yd now, he adds. In Alpha International City the current price is in the range of Rs13000-Rs15000 per sq yd, where as it was in Rs 18,000-Rs20,000 per sq yd range a couple of years ago. "But even this significant correction in the market has not brought back buyers here", rues Kumar.
Stagnation rules
This virtual absence of buyers has brought the realty development also to a standstill here as many of the projects that were launched a couple of years ago are in a limbo and have not seen much progress in the past few months. The residential project in Sector 32 was launched with much fanfare and initially the rates were very high at Rs33,000-Rs35,000 per sq yd and lots of property dealers and investors had invested there in order to make a good profit. But the market saw a drastic downfall and most of the investors have suffered huge losses as the rates now are between Rs20,000 and Rs22,000 per sq yd. Buyers are still in a wait-and-watch mode as they are hoping for the prices to bottom out further after the new BJP-led government has come in power in the state.
Most buyers are hoping that the Prime Minister Narendra Modi and Haryana Chief Minister Manohar Lal Khattar will promote affordable housing schemes. "These schemes will give ample choice to mid-segment buyers in the sub-Rs25 lakh residential properties. This is the segment where the demand is more and the government, too, is targetting it under the 'housing for all by 2022' mission", says Jugal Kishore, a local property consultant.
He says that the real estate market is stagnant as investors are preferring other sectors to invest their money as they fear further slump in the realty sector.
Project watch
Due to its favourable location and being on the NCR cities list, Karnal had been shining brightly on the developers' radar. As a result several mini and mega township projects were planned in the vicinity of the city to cater to increase in demand for residential units in this area. Alpha G: Corp, Ansals, CHD Developers are among some of the big-ticket players who launched projects here. For the buyers there is a lot of choice in different categories in these projects in 2, 3, and 4 BHK apartments, villas and even plots.
However, over the past few months the shift seems to be in favour of affordable units as some developers have launched projects in this category. New World Residency has 64 3BHK flats (2191 sq ft), and 120 3BHK (1791 sq ft) in Sector-32 adjoining five-star hotel Noor Mahal. The project also has 4 BHK flats with utility covering area of 2,551 sq ft besides penthouses of 4,551 sq ft area.
Alpha International City has recently launched 105 expandable villas by the name of Alpha Greens. "Each of the 2 BHK villas will be in 162 sq yd area," said Ashish Sarin, Director and CEO of Alpha G: Corp. CHD Developers that has already handed over some units and plots in ite CHD City project recently launched an affordable housing scheme in this project. This includes 485 2BHK flats of 553 sq ft area and 1,232 one-BHK flats of 383 sq ft area. These will be priced at Rs20.28 lakh and Rs13.79 lakh, respectively. .
APL Homes also has over 60 flats in 3BHK category in CHD Cit on offer. "Each 224 sq yd apartment costs around Rs40 lakh each", said Gulshan Chawla, Director, APL Homes. RAS Residency has launched the second phase of its project on January 10, in which it is offering 4 and 3 BHK flats. The 4 BHK units are priced at around Rs50 lakh each, while 3 BHK units in 1345 sq ft and 1595 sq ft area are available for Rs32 lakh and Rs40 lakh.
According to market experts the market here is not likely to revive in the next six months, which makes it a good time for those wanting to make the most of low prices.