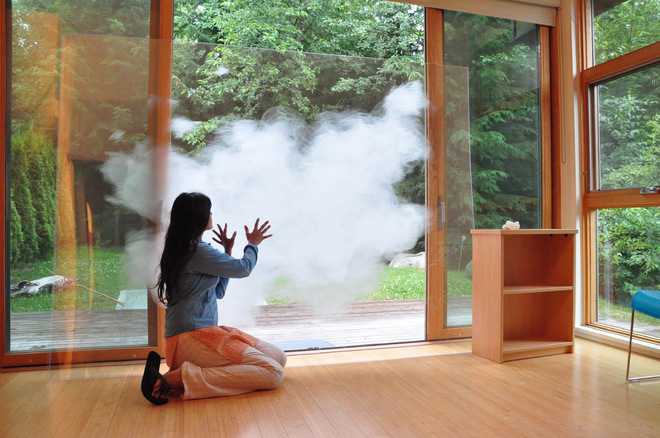 Nonika Singh
I would like my work to avoid easy digestion or neat definition."When internationally acclaimed artist Sumakshi Singh makes this startling observation, be assured her art would neither be easily consumable nor clubbed in any category. Exploring the terrain between I and the universal, her art uses the doorway of the personal to address the many nuances of universal experiences.
Indeed, one of her most appreciated works, 33 Link Road, that found its way on the cover of an illustrated art magazine, is all about her grandparents' home in New Delhi. But as she mapped the intimate, personal memories of this home by taking down its architectural measurements down to the last detail and converted it into a life-size installation in white thread, she touched many an emotional chord.
Similarly for the huge illusion-based installation, In, Between the Pages, at the Kochi-Muziris Biennale 2014, she thought of addressing the various histories of Kerala. However, she doesn't quite know when the conscious and the subconscious met to incorporate elements from the magical garden of a monk in Himalayas, with whom she spent several days. On the surface, the work may have been peppered with historical cues and clues about Vasco da Gama, The Surya Siddhanta, as well as Kerala's natural bounties as recorded in the Hortus Malabarici by the Dutch in the 17th century. However, when viewers entered the fractured illusion that aligned from one angle to look like an opened manuscript of Kerala's history with themselves as characters in it, what resonated was the meditative quality.
Art, for Sumakshi, is a way of processing life, where she is often negotiating with death and loss too. Since materials and mediums change in her work with recurring regularity depending upon where she is placed at that point and what her questions are, she does feel medium is part of the message. For instance, while doing her masters at The School of the Art Institute of Chicago, she was stumped by the exceptionally well-manicured nature around her. She says, "Imagine not a single weed on the sidewalk and tulips planted and removed in full bloom overnight — you never see them grow or die, for someone decided for you what deserves visual attention and what doesn't?"
The insightful observation, "how can you separate things from their natural cycle", led her to tiny sculptural recreation of weeds, moss and intrusions in the gallery walls, floors and ceiling. Similarly, when she lost her mother, her mother's love for embroidery came into her art practice. She feels the visual language, the concept and the subtext, all are interdependent and come together as a package deal. Her final aim is to make the viewers experience her art not as a mental thing or intellectual activity but a feeling. Viewers, interestingly, are not just bystanders or spectators in her world, but essential participants to whom she believes in offering an immersive experience. No wonder it gives her immense joy when many of them are on the same emotional page. Like this woman who saw her tapestries and could sense an immediate connect with her own mother. Or viewers in France who were reminded of their childhood when they walked through an illusion of Sumakshi's grandparents' living room.
Exhibiting her work around the world, however, she doesn't see herself as a cultural representative of 1.2 billion people. "My Indianness will naturally reflect but not as conscious design or as overt symbolism." Take her project Breath Song, in which she recorded the breathing patterns of 108 individuals and made a symphony from them. Though created for the Vancouver Biennale 2014, it became an inner landscape. The number 108 has much significance in Indian spirituality as also scientific rationale. It may have been the Indian in her that brought out its inherent place in meditative practice, but not as deliberate intent rather as latent reflex.
Material flexibility, the ability to navigate her way through a host of mediums is something she learnt in the US. She adds, "USA is a very 'idea first' society and doesn't try to hem you in as painter/ sculptor/ digital artist." To be reduced to euphemisms is almost abhorrent to her artistic sensibilities that are consistently exploring the illusory notion of perception. In search of the constant thread in the changing dynamics of perception of reality, one reality also is her astounding success. How does she deal with the weight of sterling accomplishments so early in career? She laughs. "I am happy that people are ready to repose faith in what I call my mad experiments." On a serious note, she finds herself in an exceedingly privileged position to be able to work from inspiration every single day. Only when she dips into the wells of inspiration, she wants others to plumb as deeply.
Top News
Regulator has given airline three weeks to respond to notice
2 feared dead as car plunges into Beas river on Chandigarh-M...
Mann is getting married to Dr Gurpreet Kaur, who did her MBB...
People living in her neighbourhood in Pehowa elated over the...
President accepts resignations of Mukhtar Abbas Naqvi and RC...