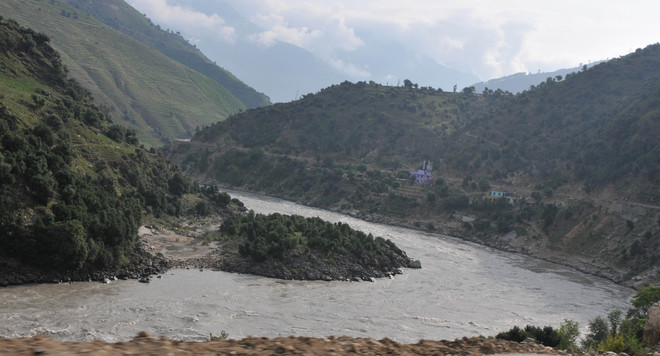 Sumit Hakhoo
Tribune News Service
Jammu, May 11
Jammu is heading for a major water crisis in the coming years as the PDP-BJP government has almost abandoned the plan to divert water from the Chenab to meet the future demands of the expanding city.
Sources said the planning of the project by the previous Congress-National Conference coalition government had led to the lapse of Rs 500 crore.
The Centre had raised serious questions over the environmental impact report submitted by the Economic Reconstruction Agency (ERA) during the period. This was the main reason the Asian Development Bank (ADB) had refused to fund the project in 2014.
"It will take nearly two years to conduct an environmental impact study. The project will take at least a decade more, but only if if necessary funds are made available on time. The present government has decided to slow down the work on the plan for the time being," said an ERA official.
Under the plan announced in 2007, 450 million litre per day of water was to be lifted from the Chenab near the Ranjan lift station in Akhnoor, 25 km from Jammu.
It was to cost a whopping Rs 895 crore to meet the drinking water needs of the projected population of 19.19 lakh of Greater Jammu in 2026 and 31.96 lakh in 2041. At present, the population of the temple city is around 15 lakh.
The sources said apprehensions had been raised over the feasibility of the project after a study conducted in 2009-10 raised serious concern over the environmental impact on aquatic life in the river, especially various fish species.
When contacted, Chief Engineer PHE, Sushil Aima, said the government would approach the Japanese International Cooperation Agency to fund the project and the groundwork had started.
"The project is being reviewed and a new detailed report will be sent to the Centre for approval. This is a big project and needs a detailed study," he said.
Consultants who had conducted the geo-technical feasibility study of the project expressed their concern over the landscape of the area through which the water pipes were to be laid to lift the water from the Ranjan lift station and its transportation through pipes and open channel till Muthi.
"Due to bad planning by the previous government, Rs 500 crore released by the ADB lapsed. It will take years to start work again on the project. We hope that the state government gives priority to it," said Capt Anil Gour, a social activist who had pursued the issue keenly.
The first phase of the project was expected to be made operational by 2015. Due to the delay, the Tawi continues to remain the only means to quench the thirst of the population of the city.
Top News
Development in Himachal possible as people voted BJP to powe...
Addressing a rally in Baramulla, Shah asks whether terrorism...
The Ministry of Defence spokesperson from Tezpur says the mi...
45-50 people, including women and children, were on the bus
Reason for the crime not yet known