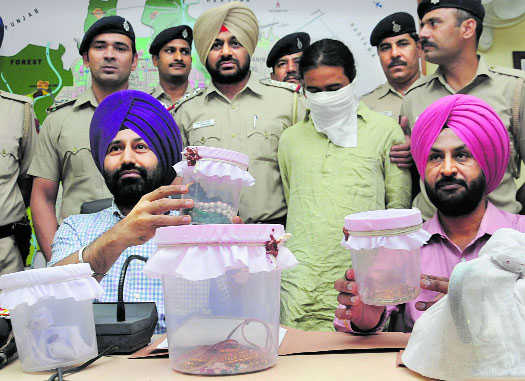 Tribune News Service
Chandigarh, June 8
The priest arrested for two major thefts in the city used to do a recce of various sectors during the day to identify houses, watch movies late in the evening at theatres and commit thefts on a stolen car at night. The Chandigarh Police have recovered jewellery worth Rs 36 lakh from the priest.
Ravi, alias Pujari, of Kalka was arrested by the Panchkula police on May 8 in connection with a burglary. His arrest revealed that he was involved in thefts in Chandigarh also following which he was brought on production warrant by the Chandigarh Police.
On February 18, the accused had made off with gold jewellery worth around Rs 50 lakh and Rs 1.5 lakh from a house in Sector 36 when the entire family was asleep. Similarly on May 16, 2015, the priest had entered the house of a retired bureaucrat in Sector 18 while the family was asleep and decamped with valuables worth Rs 35 lakh.
Sukhchain Singh Gill, SSP, UT, said the accused used to strike single-handedly. "After identifying the house, especially where old couples and nuclear families used to reside, the accused used to return to Surajpur, Panchkula. In the evening, the accused used to arrive in the city and spend time watching movies at theatres and at night he used to commit thefts," the SSP said.
The police said the amount of Rs 35 lakh stolen from Sector 18 could not be recovered as the accused had spent it.
Owns big house
The priest, who has at least 12 cases of theft registered against him in Haryana, owns a big house and a temple at Surajpur in Panchkula district on which over Rs 50 lakh has been spent.
Cops to seek attachment of property
Since all stolen jewellery and cash has not been recovered from the accused, the UT police have decided to write to the court to attach the property of the accused under Section105 of the CrPC.
Stolen car used for crime
The accused used to steal a car from Mani Majra for thefts and leave it back after committing the crime.
Top Stories