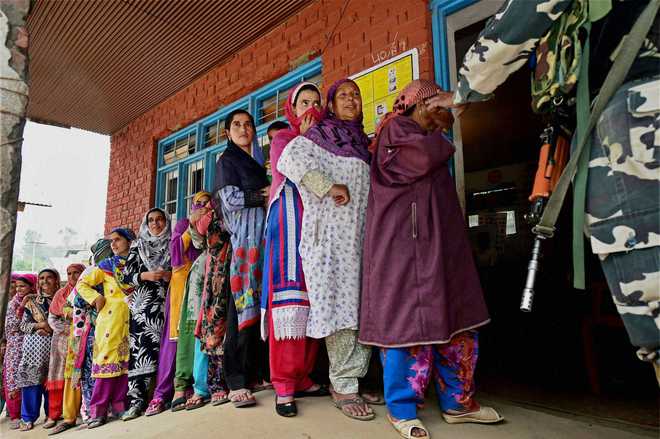 Anantnag, June 22
Polling in Jammu and Kashmir's Anantnag assembly constituency on Wednesday ended peacefully and nearly 34 per cent voter turned out was recorded as both men and women of the area came out to exercise their franchise.
"Polling ended peacefully in Anantnag assembly constituency today where 33.84 per cent voter turnout was recorded against 40 per cent during the 2014 general elections," the state's Chief Electoral Officer Shantmanu said here.
Watch: Anantnag: Defying calls for boycott
He said 117 polling stations had been set up in the constituency while 13 polling stations were installed outside the constituency for migrant voters.
"Counting of votes will start at 8 am at Degree College Anantnag on June 25", Shantmanu told reporters.
When voting started at 7 am, fewer people lined up outside polling stations. A mere 4 per cent turnout was recorded during the first one hour.
But the morning's shy trickle of voters gradually changed into small queues in rural areas even as the turnout in urban areas was still very low.
Peace prevailed in the town and adjoining areas though militants and separatists had asked people not to vote.
"Voting continued at all the polling stations smoothly through the day and there has been no militancy related incident anywhere," the official said.
(Follow The Tribune on Facebook and Twitter @thetribunechd)
In both the urban and rural segments, women voters outnumbered men, the official said.
At the Khanabal High School in Anantnag town, where two polling centres were set up, burqa clad women formed the bulk of voters.
It was the same at Rambirpora, Krangsoo, Kehribal and several other places. It seemed women were determined to defy the separatists' calls to boycott the elections.
After Mehbooba Mufti was sworn-in as Jammu and Kashmir's first woman chief minister on April 4, it became mandatory for the Peoples Democratic Party (PDP) leader to become a member of either house of the bicameral legislature.
Anantnag was represented in the 87-member Legislative Assembly by her late father and then Chief Minister Mufti Muhammad Sayeed till he passed away on January 7 in New Delhi.
Police and paramilitary forces were deployed in strength to prevent any untoward from interfering with the election process.
The army was deployed in what is known as "area domination" duty in the periphery of the constituency to ensure an incident-free poll. There was a complete shutdown in Anantnag town following the boycott call.
Wednesday was declared a public holiday in Anantnag constituency. Traffic on the Srinagar-Jammu highway, which passes through this town, moved normally. Movement of vehicles carrying tourists to the Pahalgam health resort was also normal.
Mehbooba Mufti visited a number of polling stations. But she refused to speak to the media, at Rambirpora village, where journalists sought her comments, she said: "I will speak to you when I have something to say." There are seven other candidates in the fray, including Hilal Ahmad Shah of the Congress and Iftikhar Hussain Misgar of the National Conference.
Speaking after voting, few people aired doubts about Mehbooba Mufti's victory.
"We know she will not solve international issues but will definitely address unemployment, education, healthcare and give us better roads, and she will also empower women," said Shafeeqa Begum, 45.
Shafeeqa, however, believes — like many others — that a narrow victory margin could dent Mehbooba Mufti's image as a popular chief minister whose PDP has its base in the south Kashmir districts of Anantnag, Pulwama, Shopian and Kulgam.
The Muftis belong to the neighbouring Bijbehara town. — IANS