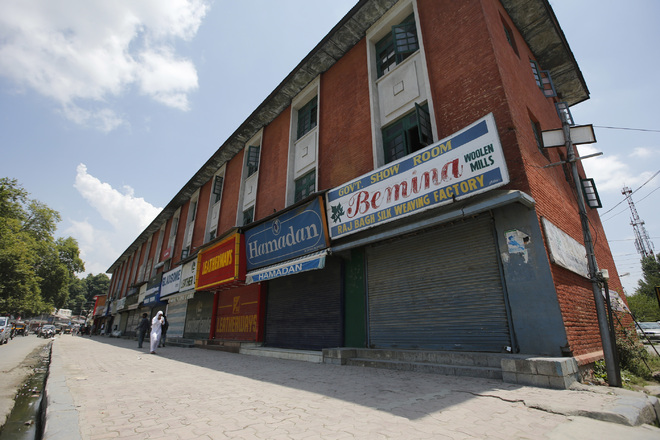 Tribune News Service
Srinagar, July 25
Normal life was affected in Srinagar and other parts of Kashmir following a shutdown called by the Valley traders to protest the burning of an Islamic State (IS) flag, bearing religious verses, in Rajouri recently.
Shops, business establishments, banks and other commercial ventures in Srinagar remained closed today. Educational institutions in the city also remained closed. Most of the government offices, however, remained open.
Traffic on most of the roads in Srinagar plied normally.
All major towns of the Valley, including Anantnag, Baramulla, Sopore, Kupwara and Pampore, also observed a shutdown and shops and other business establishments remained closed.
Claiming that the strike was a success, chairman of the Kashmir Economic Alliance Mohammed Yasin Khan said: "We are protesting the desecration of religious verses written on the flag, burnt by miscreants in Rajouri on July 18. We will not tolerate any insult to our religious beliefs."
The bandh call was first issued by the Kashmir Chamber of Commerce and Industries, Federation Chamber of Industries, Kashmir, and the Kashmir Economic Alliance. It was later supported by the Traders and Manufacturers Federation and other groups.
The JKLF and the moderate faction of the Hurriyat Conference, headed by Mirwaiz Umar Farooq, had also supported the shutdown call for today.
Top News
Overseas ramifications as Boris Johnson's brother quits link...
Both Houses adjourned for the day amid uproar over Adani iss...
DGP said Arif was being handled by a Pak-based LeT terrorist...
CM Kejriwal says all the cases filed by ED are fake and they...
IPS officer has been accused of corruption and misconduct du...