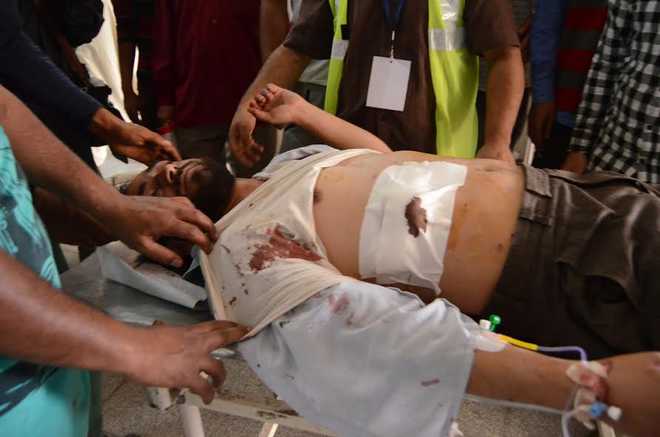 Samaan Lateef
Tribune News Services

Srinagar, September 11
A 23-year-old youth died on Sunday of bullet injuries he received in previous clashes with security forces in Kashmir, taking the death toll in an ongoing unrest to 78 even as more than 100 people were injured in renewed violence.
The youngster, identified as Javaid Ahmad Dar of Wadwan village of Budgam district, died of bullet wounds he suffered in clashes in the neighbouring village, Narbal, on August 5. He was admitted to SK Institute of Medical Sciences (SKIMS).
"A bullet had torn apart his popliteal artery, which runs in close proximity to the joint capsule of the knee. We tried to repair it but he landed into acute renal failure," the medical superintendant of SKIMS, Dr. Farooq Jan said on Sunday morning.
Some 104 people were injured in clashes with security forces in Karimabad village of south Kashmir's Pulwama district after security forces launched a counter-insurgency operation in the village on Sunday.
"We had received an input of presence of 3-4 militants in Karimabad and launched an operation along with Army on Sunday morning," Pulwama Superintendent of Police Mohammad Rayees said.
Villagers blocked roads and threw stones at them as soon as they entered the village.
"Roads were blocked and people made announcements in mosques, calling for protests. We had to call off the operation," he said, although he added 18 people have been arrested for having organised the protests.
Protests also erupted in Tukroo village of Shopian and in Anantnag district where security forces foiled "pro-freedom" rallies.
Violence that erupted after security forces killed Hizbul Mujahideen militant Burhan Wani has left some 11,500 people — both civilians and security personnel —wounded.
The violence has left Kashmir paralysed since two months. Valley remains largely shuttered as educational institutions and, business establishments and shops remains closed and traffic remains off the roads, ahead of Eid-ul-Adha celebrations.
Although government officials say curfew has been lifted across the Valley, restrictions on movement remain in some places.
Separatists have called for a march to the UN Military Observers Group in Srinagar office.
Eid-ul-Adha will be observed on Tuesday.
Top Stories