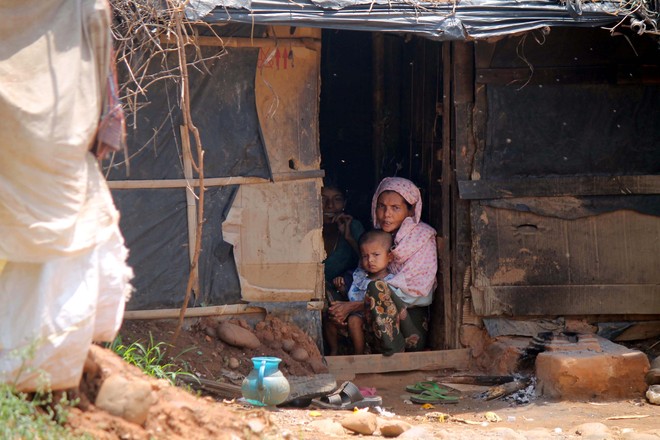 Ravi Krishnan Khajuria
Tribune News Service
Jammu, November 12
The recent killing of a foreign militant has reignited the fears of security forces vis-à-vis the floating population of Rohingya refugees in J&K and their vulnerability to falling prey to the designs of terror outfits.
Rohingyas have settled down in good numbers in Jammu city, which has always remained on the terror radar.
One of the two foreign militants killed in an encounter in south Kashmir's Tral town in October was identified as Chota Burmi, a native of Myanmar. He was shot dead along with his associate Adeel Pathan.
Chota Burmi's real name was Abdur Rehman al Arkani or Abdur Rehman of Arakan. Arakan is the old name of Burma's Rakhine state, home to persecuted Rohingya Muslims.
"We again flagged the issue with the Ministry of Home Affairs and called for quick and apt action to check this floating population of Rohingya Muslims from settling down in clusters in Jammu," said an Intelligence source.
"After being hounded out of Myanmar, these penury-ridden Rohingya families are being radicalised under a well-knit game plan so as to exploit them in terror activities. Not to forget that some NGOs with dubious credentials provide them basic amenities while education to their children is being provided in as many as six madrasas," the source added.
"There are about 1,219 Rohingya (Burmese) families, comprising 5,107 members, who are staying in Jammu after fleeing persecution in Myanmar," Chief Minister Mufti Mohammed Sayeed had stated in the Lower House during the autumn session of the state legislature in Srinagar last month.
Nearly all refugees live in the Narwal Bala area on the outskirts of Jammu city.
Mufti had claimed that 4,912 Rohingya refugees living in Jammu had United Nations High Commissioner for Refugees (UNHCR) cards while 186 of them were without cards.
"The killing of a Burmese militant in Kashmir is of course alarming because Pakistan's ISI has got into Myanmar, where Rohingyas are being persecuted," said an official of a counter-insurgency force.
"Though the Intelligence Bureau is keeping a watch on the Rohingya refugees but they can be easily exploited by terror outfits. There is the possibility of Rohingya youth being lured into the radical path," he added.
IGP, Jammu zone, Danish Rana has said this population in Jammu is being kept under a constant watch. "There are some unregistered Rohingyas in Jammu. Though there is no recorded evidence of their involvement in any subversive activity in the state so far, some of them were found involved in petty crimes," said Rana.
While IGP, Kashmir zone, SJM Gillani maintained that slain militant Chota Burmi was a resident of Pakistan, police sources confided to The Tribune that he hailed from Myanmar.
A defence official described this floating population as a 'ticking time bomb' that may take a heavy toll if not defused in time.
They may be under surveillance but their presence in a restive border state where Pakistan continues to sponsor terrorism should be a cause for concern for the helmsmen, he added.
Chota Burmi had infiltrated into Kashmir in 2013 and was part of an eight-member group of foreign militants.
Top News
Separatist still at large | 6 FIRs, 114 arrests so far | ISI...
1 held for pulling down Tricolour in London
Unveils $75 bn plan to counter China