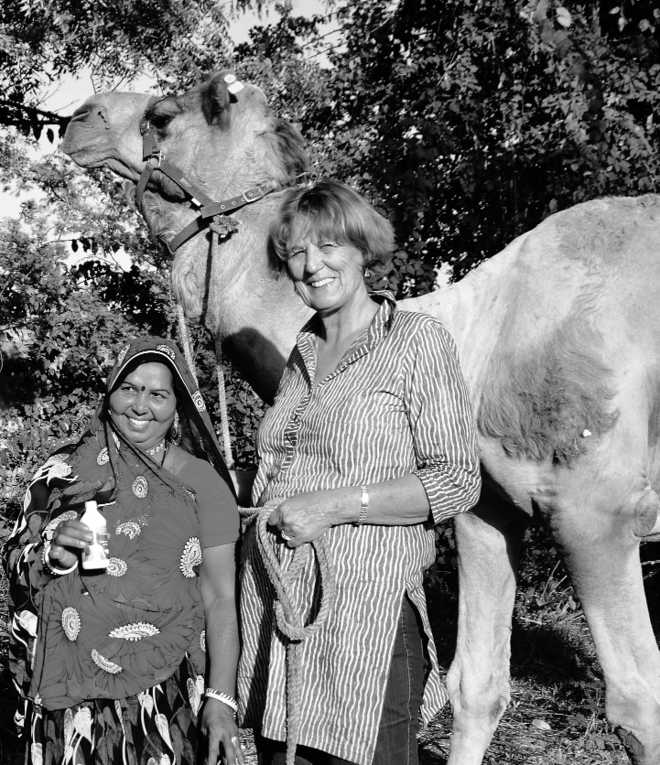 Cattle as a wealth-source have never really figured in our scheme of planning, though occasional noises are made over a variety of reasons. That's why while cows and buffaloes make the headlines, the other quadrupeds in the same category are simply ignored. For instance, the camel.
A research at National Center for Biotechnology, US National Library of Medicine, says camel milk is the closest to human mother's milk. "Camel milk is different from other milks...having low sugar and cholesterol, high minerals (sodium, potassium, iron, copper, zinc and magnesium, and vitamin C). The milk is considered to have medicinal characteristics as well." It has called for a systematic review aimed at determining and reporting nutritional values and medicinal characteristics of camel milk in children. The milk has emerged to have potential therapeutic effects in autism.
Closer home, a large population of the lactose-intolerant can benefit as more evidence of camel milk's healing powers emerges from clinical tests. Says Dr N V Patil, Director, National Research Centre on Camel, Bikaner: "The camel was never treated as a milk producing animal in India. We have clinical proof of its magical medicinal qualities: we secured approval for standardization for production of camel milk. Now it's over to government to create farmer's co-operatives to pasteurize it in smaller processing units, fix its selling price and to create distribution chains."
The lack of government concern has led to a steep decline in the number of camels in the country. Today, India has only 4 lakh camels -- down from 10 lakh in 2008. Of the five states of Rajasthan, Gujarat, Haryana, UP and Bihar, about 80% of them are found in Rajasthan, largely bred by the Raika community of pastoralists. They have lost their traditional way of life; grazing lands have disappeared, mechanized farming has taken away male camels' role as draught animals -- the beast of burden. The Raikas have fought a legal battle for years to protect their right to graze camels in forest lands. Social hostility towards their nomadic traditions is another cause. Keeping a camel has now become costly for the nomadic tribes; and camels are lost to parasitic diseases or are sold off to butchers.
Demand & supply
About over 18 lakh tons of camel milk is produced globally to meet the burgeoning demand in the European Union and US. For its medicinal qualities, the UN declared camel milk as a superfood in 2006. In India, SARAS, the milk cooperative from Rajasthan, introduced camel milk in the past, but had to close down soon because of the high production cost, unattractive packaging and lack of awareness among consumers.
Camels are not tampered with genetically or hormonally, they produce only 4-5 litres a day — as against 40 litres that cows or buffaloes do. The milk plants are designed to handle large volumes, the experiment of Saras thus failed.
Ray of hope
While camels were dying in Rajasthan, an anthropologist came to research camels and the pastoral people's lives and fell in love with the community of Raikas. Ilse Kohler Roleffson, also a veterinarian, author of Camel Karma, set up Lokhit Pashu-Palak Sansthan (LPPS), in Sadri, Rajasthan, with her associate Hanwant Singh to protect the source of livelihood of the Raikas. In 1990s when she came to study nomads, India had the third largest population of camels. She had since been playing an activist's role, helping the Raikas fight for its pastoral rights and looking after their camels as a vet.
"People come to us with their autistic children from Chennai, Chandigarh and Gurgaon, but we are helpless in shipping small quantity. Only if people in towns can organize themselves with demand that meets logistics, we can ship milk" says Ilke.