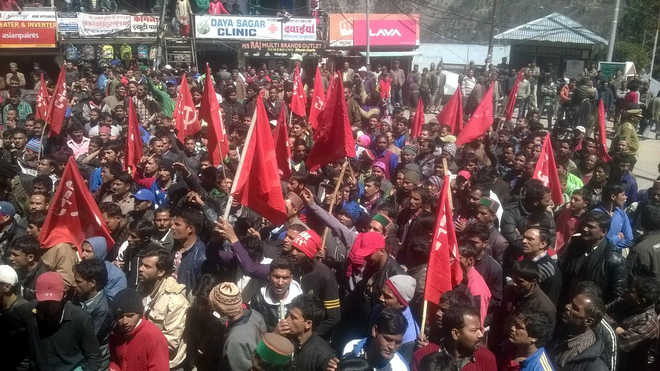 Kuldeep Chauhan
Tribune News Service
Shimla, March 28
Supported by CITU, project workers today staged a protest in Reckong Peo under the banner of the 450-MW Shongtong-Karcham Hydel Project Workers' Union demanding three-month pending wages as per the minimum wages Act, implementation of labour and tribal laws and lifting of Section 144 from the project site.
Raising slogans against the district administration and Himachal Pradesh Power Corporation Limited (HPPCL), workers and the project-affected farmers from four gram panchayats of Rali, Barang, Powari and Kwangi gheraoed the office of the general manager, HPPCL, which is executing the project on the Satluj river.
Leaders of the workers' union Satya Prakash Negi, Shakti Negi and Jeet Negi accused the Patel Engineering Company, HPPCL's main contractor and its subcontractors of cheating the workers ever since the company started its work in 2013. "The company and its subcontractors are not making EPF contribution, pay no money for overtime, pay no tribal wages and tunnel allowance as provided under the labour laws," they said.
The workers rued that there were no proper lodging and medical facilities at the project site for them. "Workers have not got wages for three months even as the strike entered 15th day today," they said.
The project-affected farmers in four gram panchyats claimed that the HPPCL had not compensated them amply for their land acquired for the project.
CITU leader Vijender Mehra alleged that the district administration, Kinnaur, and the HPPCL were intimidating workers by imposing Section 144 to suppress their genuine demands. "The workers' strike has been peaceful and it was under the influence of local Congress legislator that three workers were thrashed, while seven were suspended," he alleged.
Kinnaur legislator Jagat Negi, who is also Deputy Speaker in the Vidhan Sabha, trashed CITU charges saying that Section 144 was imposed on the project site because CITU was "breaching peace" at the project site, influencing the workers.
However, HPPCL Managing Director DK Sharma said the company was making EPF contribution to workers and all rules and labour laws were being followed. "A meeting has been called in Shimla to resolve the deadlock," he added.
Top Stories