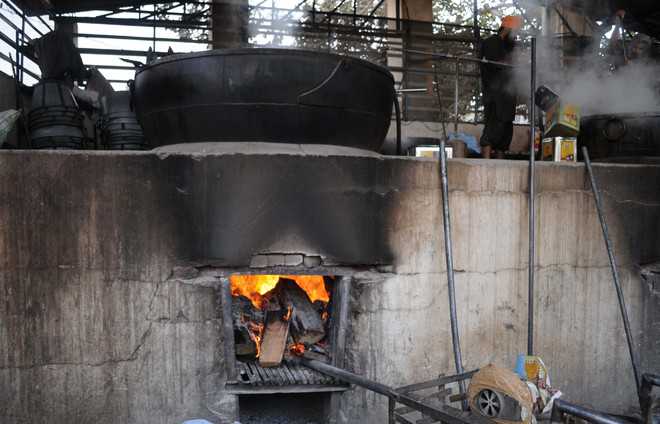 Neeraj Bagga
Tribune News Service
Amritsar, February 21
Despite studies indicating that the Golden Temple was getting damaged due to pollution by coal hearths, among other things, a part of the langar is still being cooked from firewood.
A study of the Punjab Pollution Control Board (PPCB) had stated that one of the reasons of damage to the shrine was coal hearths that were being utilised by goldsmiths, "halwais" and "dhabe walahs" in its vicinity.
Another study carried out by a team of the Indian Institute of Technology (IIT), Delhi, found that the main building of the Golden Temple was being adversely affected by pollution due to industries, vehicles, generators, tandoors, restaurants and stubble burning by farmers.
While acknowledging the IIT's interim report, the Punjab and Haryana High Court had asked the state government to take action as per the recommendations of the IIT and file a status report.
In response, the state government informed the High Court that it would provide uninterrupted power supply to commercial establishments in the vicinity of the Sikh shrine. The move would prevent dependence of commercial establishments on alternative means of power like generators, which cause a lot of pollution.
The SGPC and the district authorities initiated certain measures in the vicinity of the Golden Temple to prevent damage due to pollution. These preventive steps include the deployment of electrically operated vehicles and prohibition of over 15-year-old vehicles around the shrine, among others.
"Various initiatives were taken but these have been implemented half-heartedly. The authorities have failed to take findings of various studies seriously," said PS Randhawa, an environmentalist.
Environmentalists have time and again voiced their concern over generator sets being run on the roofs of commercial buildings in the vicinity of the holy complex. A diesel-run generator set was found operating for civil work of the Golden Temple entrance plaza.
Manpreet Singh Chatwal, chairman, PPCB, said a state-of-the-art Pollution Monitoring System was expected to be installed at the Golden Temple in March. The move is aimed to minutely monitor the impact of pollution on the heritage building of the Golden Temple, he said.