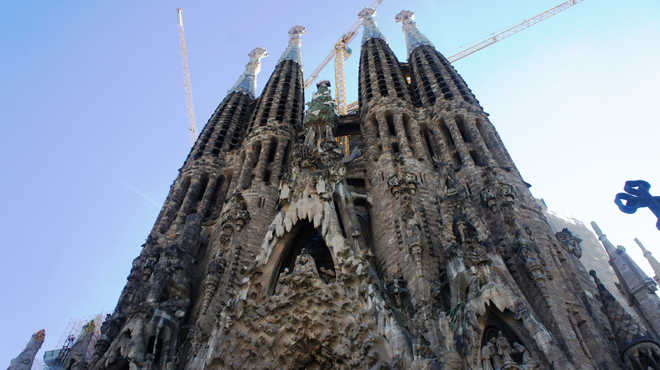 Sujoy Dhar
A one-mile run today in Barcelona takes runners 1.5 times round "The Basílica i Temple Expiatori de la Sagrada Família", the awe-inspiring church that rises up to the sky in the heart of Barcelona as the most audacious work of late Spanish Catalan architect Antoni Gaudí.
Said to be in the last state of its construction (more than 133 years in the making now), the fantastical Sagrada Família is Barcelona's most visited tourist attraction.
Popularly known as the Gaudi church, it is a large Roman Catholic church, designed by Gaudí (1852–1926), a symbol of Catalan modernism for his adventurous, whimsical and exuberant works.
A Unesco World Heritage Site now, the construction of this church had begun in 1882-3, and possibly, it could end sometime between 2026 and 2032.
It bears the mark of Gaudi's architectural and engineering style, combining Gothic and curvilinear Art Nouveau forms.
Soaring towers, mind-blowing kaleidoscopic stained glass work and its intricate relief works of sculptures resembling an outgrowth of the stone, make this church a compelling visit if you are in Barcelona.
Gaudi's counter-revolutionary philosophy into stone which once George Orwell had called 'one of the most hideous buildings in the world' actually is a huge crowd-puller now.
While this temple of god was meant to be the cathedral for the poor, an expression derided by many because wealthy Catalan bourgeoise had patronised it and its famous architect, Gaudí felt the poor people were an object of prayer and not a subject for any revolutionary politics.
Gaudi was in no hurry to complete the church, and he would say "my client is not in a hurry" referring to God while about the poor and pious people who would visit the church he had said that "a church [is] the only thing worthy of representing the soul of a people, for religion is the most elevated reality in man".
The Nativity Façade of the church, completed in 1905, expresses the joy of the birth of Jesus, reflecting all the fantastical ideas of Gaudi.
The porticos are devoted to Mary, Joseph and Jesus representing faith, hope and charity.
This church has got more reviews on TripAdvisor (1,06,600) till April this year crossing the figures of Eiffel Tower at 98,976 reviews.
While even a travel guide resource like Lonely Planet says, "if you have time for only one sightseeing outing, this should be it (the church)", generations of tourists are perhaps visiting this church to see it in a permanent state of being under construction.
But after a long queue — it attracts nearly three million visitors every year — as you enter inside the church, you see the synthesis of Gaudi's architectural theory and practice.
After you are awed by the parabolic shapes of the towers outside, inside you see the mind-boggling hyperbolic shapes of vaults.
Once completed, the church will have 18 towers, the highest rising up to 170 metres and would, therefore, earn the distinction of being Europe's tallest religious building, exceeding the height of Germany's Ulm Minster.
But while the church is the most famous monument in Barcelona, a visitor's Gaudi trail perhaps begins with other houses like Casa Batllo (1904-1905) and Casa Mila (1906-1912).
A visit to Casa Batllo is a must if you want to see how Gaudi restored a house and remodelled it avoiding any straight line.
The house in the traditionally upscale Barcelona is also called House of Bones for its visceral, skeletal organic design traits with the façade converted into a symbolic battle between Saint George and the dragon.
The interiors right from the wavy staircase rails to the windows and doors, he combined architecture with ornamentation. Do not miss the Gaudi roof, which is a world of shapes representing an animal's spine with tiles of different colours.
And yes do not miss out Park Guell (1900-1914), an attempt by Gaudi to create an urban development — a park with not a single straight line.
Standing in the open terrace of Park Guell, you can see a city before you melting with the horizon of Mediterranean and remember that an eccentric genius lived, worked and left his indelible mark here.