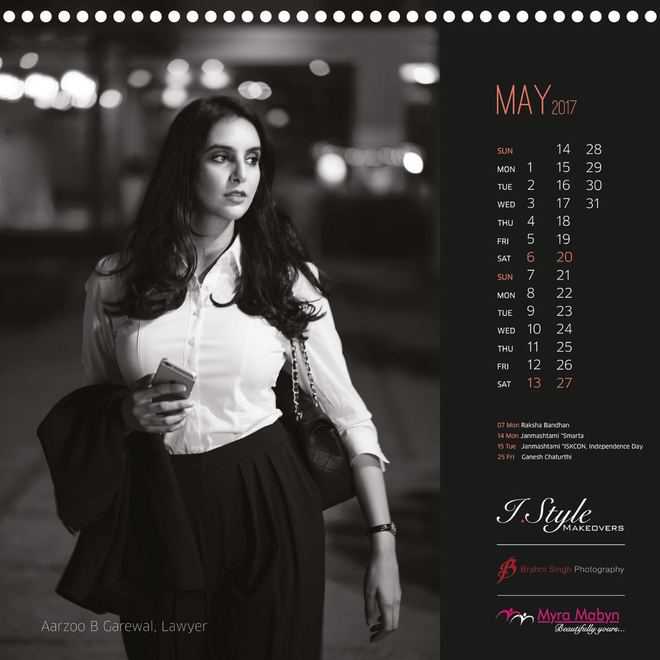 Manika Ahuja
Seldom does one see real women, with real bodies, and untouched real beauty, make it to the cover pages of high-end fashion calendars! But once they step out of their cocoon, there is clearly nobody who could look just as pretty. That is precisely the thought that led to the inception of Chandigarh-based make-up artist Tanvi KG's I-style calendar; which as she puts it, sees as many as nine 'real women of substance' as cover page stars.
"I have always believed that real women look the prettiest, which is why we roped-in women from a diverse age-group for the calendar shoot. Right from a 20-year-old to a 60 something shot for this," shares Tanvi, as she points towards the picture of a young woman lawyer on the calendar to substantiate her assertion that 'real beauty' surpasses everything.
Lawyer and city dame Aarzoo Grewal, one of the females lighting up the calendar pages, nods in agreement, "A lot of stereotypes need to be broken for people to start appreciating real beauty in the true sense of the word. I am not a professional model, I am a lawyer, but that does not mean I cannot look beautiful."
Don't make it up
While it is a truth well-known that magazine covers carrying images of 'make-up loaded' celebrities are heavily edited and touched-up to make them look perfect to the T, Tanvi sees it differently, "Make-up is not a tool to make an ugly thing look beautiful; it is only to magnify the beauty that already exists. "
Agrees Bollywood actress Shiwani Saini, who shared screen-space with actors Aishwarya Rai Bachchan in the Oscar nominated film Sarbjit. "If you are confident in your skin, make-up and other artificial methods become secondary," shares the INIFD-pass-out.
Chandigarh diaries
It goes without saying that the city's charm must have been hard to evade even when it comes to the shooting locales. "Indeed. We ended up taking a handful of shots in Chandigarh, while the rest were shot at Delhi and other places," inform Brahm and Jai Inder Singh, the creative men behind the lens.
manikaahuja@tribunemail.com
Top News
Several centrally-protected monuments across the country lit...
Harried passengers take to social media to vent their ire at...
Lapid had stirred a massive controversy by terming Vivek Agn...
Voter turnout less than 66.75 pc recorded in first phase of ...
DigiYatra will provide seamless entry and embarkation proces...