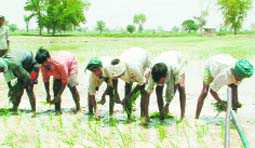 Neeraj Bagga
Tribune News Service
Amritsar, July 9
The area under basmati has dropped by about 50,000 hectares (14 per cent) in the Majha region this season. The loss of basmati is the gain of coarse variety of paddy.
Failing to get remunerative prices for the popular basmati varieties of 1509 and 1121 last year, farmers have shifted to the coarse variety, which is insulated by minimum support price (MSP).
The fine variety of paddy is not covered under the MSP, but the Centre offers Rs1,520 per quintal for parmal and other coarse varieties.
Basmati is grown in the Majha region, comprising Amritsar, Tarn Taran and Gurdaspur districts. A reduction its cultivation may affect exports as a major share of basmati here finds its way in the UAE and the UK.
In Amritsar, the total area under paddy is 1.80 lakh hectares. Of this, the area under coarse variety has gone up to 74,000 hectares in comparison to 44,000 hectares last year. The area under basmati has come down to 1.06 lakh hectares against 1.36 lakh hectares last year. The biggest fall was witnessed in the area under 1509 variety, which has come down to 16,000 hectares from one lakh hectare last year.
Basmati lost about 1.66 per cent area in this district.
Similarly, the area under paddy cultivation is 1.75 lakh hectares in Tarn Taran. Of this, the share of coarse variety has gone up to 1.10 lakh hectares from the last year's 90,000 hectares, while that of basmati has come down to 67,000 hectares from 87,000 hectares.
Farmer leader Rattan Singh Randhawa said basmati rice was the country's largest farm export commodity. The reduction of area under its cultivation was alarming. Pusa 1509 superfine basmati had fetched Rs3,500 per quintal in 2013 and it was priced at Rs2,200 the following year. However, the farmers were left high and dry last year when its prices hovered between Rs950 and Rs1,200 per quintal.
He blamed a cartel of traders that quoted low rates during the procurement season and taking these higher immediately after the end of the season.
Top Stories