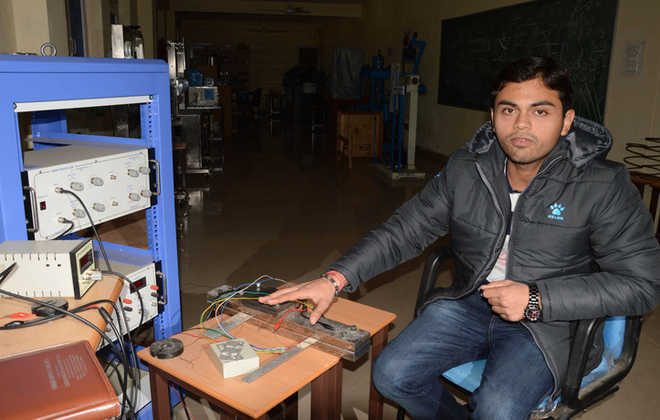 Dushyant Singh Pundir
Tribune News Service
Mandi, January 16
A student of the Indian Institute of Technology (IIT), Mandi, has received the prestigious Young Scientist Award for 2014-15.
Mohammad Shakeel, Registrar, IIT, said Aditya Chauhan, a student of Masters in Science (MS), received the award in Material Science category.
The award, which carries a certificate of merit and Rs 25,000, was presented by the Indian Science Congress recently.
Aditya (24), a resident of Meerut in Uttar Pradesh, completed his B Tech in mechanical engineering from UP Technical University, Greater Noida.
Aditya said a jury selected his research work for the award after scrutiny of nearly 1,000 applications.
Shakeel said Aditya was working in the area of materials selection, energy harvesting and solid state refrigeration using piezoelectric ceramics under the guidance of Dr Rahul Vaish.
Piezoelectric ceramics have the property of developing an electric charge when mechanical stress is exerted on them.
"For the first time, Aditya has demonstrated giant refrigeration effect in piezoelectric ceramics," said Dr Vaish.
Aditya said with his research work, material could be cooled down by a chip or a tablet-sized device which would take less space and power.
Talking about the research, Dr Vaish said it was for the first time that giant cooling capacity in bulk samples of ferroelectric materials (which is a subclass of functional/electronic ceramics) was experimentally demonstrated.
The results indicated that application of suitable amount of compressive stress to ferroelectric materials can be used to greatly enhance their cooling capacity.
"Our results indicated that the heat extraction ability of certain classes of materials can be improved by a factor of more than 200 per cent, which will prove to be highly beneficial for solid-state refrigeration," he said.
The research has been internationally appreciated and published in the upcoming issue of Energy Technology. Adiya has to his credit over 20 published research articles in peer reviewed intentional journals and gained over 160 citations in just two years.
Top Stories