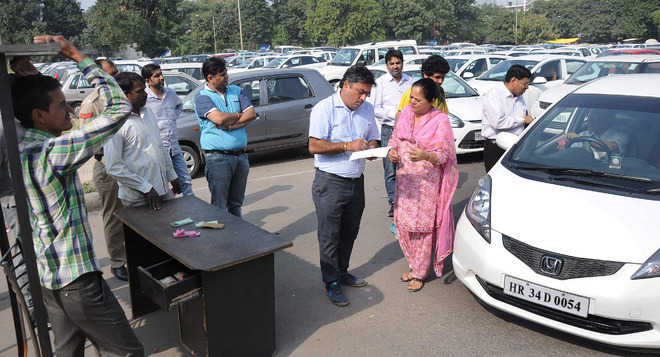 Tribune News Service
Chandigarh, November 5
Despite cancelling the contracts of parking lot contractors over violations, there has been no end to overcharging and other violations in the paid parking lots across the city. A team from the Chandigarh Municipal Corporation today visited all the parking lots in the city and detected overcharging and other violations at 13 places.
The MC team issued challans to the contractors accordingly. It came to light during the checking that most vehicles that were overcharged by the contractors were from outside— Punjab, Haryana and Himachal Pradesh.
A senior MC official said since these people were unaware of parking rates in the city, the contractors were overcharging them.
The MC team detected violations such as overcharging, non-display of parking rates, non-installation of e-ticketing machine, non-functional CCTVs, parking attendants without uniform and name plate, haphazard parking and lack of proper marking for vehicles. The MC has been carrying out such drives in the past, but violations continue.
Top Stories