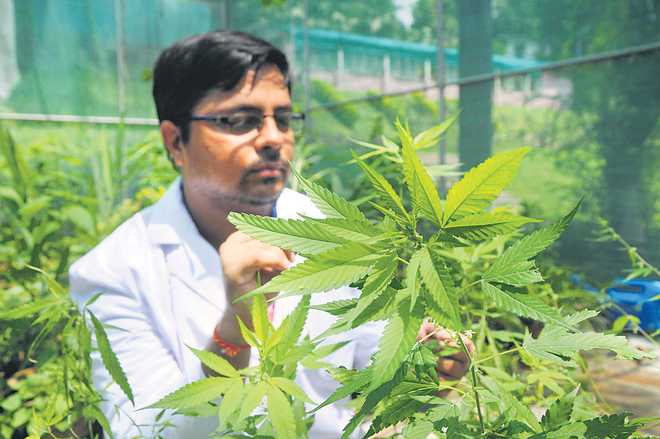 IN India, the controversial cannabis plant is a league of its own in legal, cultural, and religious spheres. A video on Swami Ramdev's YouTube channel about medical use of Indian hemp by Acharya Bal Krishan, CEO of Patanjali, underlines its scope in ayurveda.
Even though the Narcotic Drugs and Psychotropic Substances Act banned the production and sale of cannabis resin and flowers, it left the leaves and seeds for the states to regulate. For all you know, medical marijuana may already have made its way into India.
Ram Vishawakarma, director of CSIR-India Institute of Integrative Medicine in Jammu, uses the word cannabidiol (CBD) instead of medical marijuana. At the institute, he is conducting a research on medical uses of CBD, an extract from the cannabis plant.
Quoting studies published in top medical journals such as Nature, Vishawakarma says CBD has been approved by Canada, the US and European regulatory agencies to treat symptoms and aftereffects of chemotherapy, epilepsy in children, and for pain relief in advanced stages of HIV and cancer.
Vishawakarma says much research on the plant was conducted in the 1930s and '40s, but it came to a stop with the NDPS Act in 1985. "Four months ago, the J&K government allowed us to cultivate cannabis for medical research and development. This is the first time a state government has approved such a proposal regarding cannabis."
The policy
A policy on "phytopharmaceuticals" has paved the way for cannabis research at CSIR-IIIM. In a notification issued on November 30, 2015, the Union Ministry of Health and Family Welfare announced changes in the Drugs and Cosmetics Rules, 1945. The notification gave the green signal to use "an extract of a medicinal plant (cannabis in this case) for internal or external use of human beings for diagnosis, treatment, mitigation or prevention of any disease or disorder".
But, it may still be a long time before medical marijuana is available at your neighbourhood chemist. "We have just started research. Legally speaking, phytopharmaceuticals are the route for introducing CBD in India," says Vishawakarma.
In European countries, the US and Canada, health insurance companies have started to cover cannabis, not because of its medicinal benefits, but because it costs less. Vishawkarma hints at the possibility of using it as a palliative drug for sickle cell anaemia, a genetic disease that afflicts 20% of India's tribal population.
Challenges
Indian hemp-retail company BOHECO (Bombay Hemp Company) co-founder and director (strategic development and collaborations) Jahan Peston Jamas says there still are many areas that need to be addressed in the policy around medical marijuana. "Unlike pharmaceutical drugs, the cannabis plant for medicine has to be of a specific nature. After resin and oil are extracted, it can be formulated into a pharmaceutical ingredient. These processes don't fall in the conventions of a regular pharmaceutical company. Whether private or public, these companies come in to play during drug development, like pre-clinical trials and marketing. That's why the government controls opium; it is both, medicinal and narcotic."
Dutch scientist Arno Hazekamp --- PhD in medicinal cannabis, researcher, and international consultant from The Netherlands --- and his colleagues made an overview of clinical trials done in last 10 years. "The problem with cannabis is that there's not one particular standardised product, at the moment. That's because there is no international agreement on how to apply the research around it. Large-scale surveys of patients' experience with medical cannabis can be a solution. Final proof should come from scientific research," he says.
Will country run amok?
Arno points to statistics to claim that allowing marijuana won't have a devastating effect on the country simply because it is a "drug". "People don't develop a tolerance for it suddenly. Governments fear medical cannabis because they believe it is the first step to legalising cannabis for recreational use in a way that the US did. Cannabis can be introduced as medicine, sold only on prescription by pharmaceutical professionals," he says.
In 2014, the NDPS Act was amended to relax restrictions on essential drugs (morphine, fentanyl, and methadone) to make them more accessible for use in pain relief and palliative care. "The government has been mindful and mature to regulate opium for its cruder and toxic versions like smack and heroin," says Jahan. "As the NDPS Act empowers state authorities to determine institutions and enterprises best for medical-grade cannabis, there's scope to collaborate with government. This way, the government can ensure there is no misuse."
'Decriminalize it'
Patiala MP Dharamvir Gandhi and former IRS officer Romesh Bhattacharji, who served as a narcotics commissioner, feel marijuana should be decriminalized. They point out most people who are targeted for marijuana possession are regular users and addicts, who turn into hardened criminals after serving a prison term as punishment under the NDPS Act.
They say the clampdown on drugs has not been able to control the illicit trade of drugs and narco-terrorism. "Alcohol is more dangerous than marijuana. The Indian government should allow its cultivation, so that farmers can sell it in national and international market. This will boost our economy and give relief to patients of chronic ailments," says Gandhi.
Bhattacharji says Punjab's prisons are filled with drug addicts. "The NDPS Act has to be reviewed as far as consumption by users is concerned. Marijuana, as far as NDPS Act is concerned, is seen in the same light as hard drugs like cocaine and heroin. It is impractical."
---
Cannabis care
Conditions where medical marijuana could be used:
Chronic pains of neuropathic signals
Sleep problems
Palliative care for cancer (nausea, vomiting, and loss of appetite)
Epilepsy