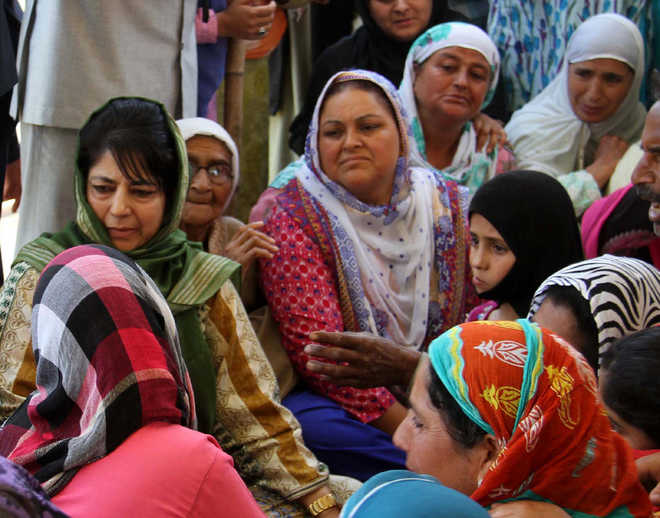 Azhar Qadri
Tribune News Service
Srinagar, June 13
Along the banks of the Jhelum river near the Raj Bagh locality, a braveheart shikarawala's body rested on a wooden plank inside a tent as men prepared to perform its ritual bath.
Ghulam Mohammad Guroo's body was retrieved from the the Jhelum after six days. "We are proud of him," Noor Mohammad Zaindari, Guroo's neighbour, said.
"But the government should not forget him and help his family," he added.
In the region, where death has become a routine in the recent decades as thousands have died due to the raging insurgency, Guroo's death stands out. His death is a rare vindication of Kashmir's hospitality and the tourism sector, which had ebbed with the eruption of militancy but regained a footfall in the recent years.
The attestation of Guroo's bravery came from the highest quarters of the state government as Chief Minister Mehbooba Mufti visited his grieving family. "By his sacrifice, this man has shown the real image of Kashmir. I salute this brave man and assure his family that the government will do whatever is possible to help them," she said.
Guroo's boatman life, in which he ferried travellers and tourists in a shikara across a stretch of the Jhelum river, came to an end last Wednesday when his boat capsized. Even as he lived a routine life trying to earn a livelihood, Guroo became a hero in death as he drowned while saving a group of tourists who were taking a joyride on his shikara.
According to a statement issued a day after his boat capsized, the police said Guroo died while saving his tourist customers from drowning in the river near Fateh Kadal, several kilometres away from his houseboat home, where he lived with his two brothers.
"The boatman was saving the tourists and their luggage with the help of another motorboat but unfortunately drowned in the river. All the tourists were rescued and the search to retrieve the body of boatman is going on," the police had said.
For the next five days, the river was searched extensively, but there was no sign of Guroo. "We were now thinking of searching a new stretch downstream when I got a call that a body with white shirt has been found near Qamarwari," Noor Mohammad Farigado, head of an association of boatmen, said. It was six days later on Monday morning that Guroo's decaying body was found.
Outside the tent where Guroo's body laid in wait for the bath, his brother Mohammad Sultan sat in an isolated corner. He said few words as he looked towards the river, his home and the source of tragedy.
Top News
Ministry of Electronics and IT issued orders to block apps f...
Lived in self-imposed exile in the UAE to avoid criminal cha...
After his failed misadventure in Kargil, Musharraf deposed t...
Congress leader Jairam Ramesh says starting Sunday party wil...
Says banks and insurance companies are 'not overexposed' to ...