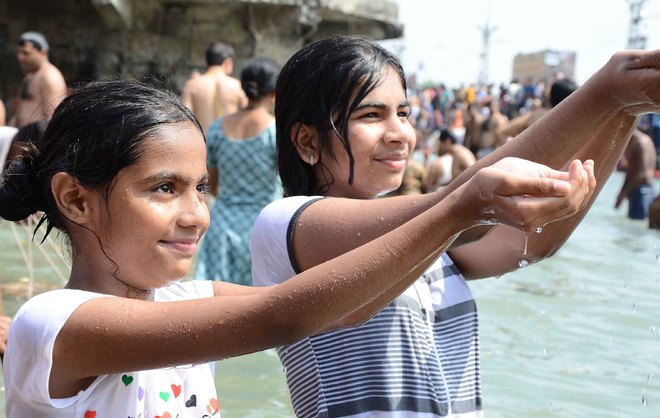 Tribune News Service
DEHRADUN/Haridwar, April 14
On the occasion of festive bath of Mesh Sankranti, less than expected number of devotees' turnout was visible for the holy Ganga dip across Ganga river ghats in Haridwar and Rishikesh.
In comparison to past years, this year's festive baths of Baisakhi and Mesh Sankranti witnessed a moderate turnout of pilgrims and devotees.
The mela administration had expected more than 5 lakh pilgrims and had envisaged alternate traffic diversion plans in the wake of heavy traffic, but barely was it resorted to as the pilgrims arrived in lesser number, though the tally touched the 1 lakh mark.
The pious festive bath, which commenced from 7.30 am as per astrological timing, saw devotees from across the state and the country taking holy Ganga dip at Brahma Kund, Har-ki-Pauri, Subhash Ghat, Birla Ghat, VIP Ghat, Gau Ghat, Kusawrat Ghat, Alaknanda Ghat, Birla Ghat, Love Kush Ghat, Swami Vivekanand Ghat, Ram Ghat, Rishikul Ghats, Gobind Ghat, Prem Nagar Ashram Ghat, Valmiki Ghat, Sita Ghat, Pull Jatwada, Muni-ki-Reti, Swarg Ashram, Parmarth Niketan and other Ganga ghats.
Haridwar Senior Superintendent of Police Sweety Aggarwal monitored the mela proceedings at Har-ki-Pauri.
Mela police in charge, Superintendent of Police (city) Dr Surjeet Singh Pawar said the twin festive baths of Baisakhi and Mesh Sakranti passed off peacefully, with more than 2 lakh devotees arriving in Haridwar.
He added that elaborate security arrangements were in place for the festive bath, with deployment of additional state police personnel, Provincial Armed Constabulary platoon, Jal police, mounted cavalry unit, bomb disposal, sniffer squad and fire-fighters done for the twin festive baths.
As per teerth purohits and local traders, the turnout for the back-to-back twin festive baths was not as per expectations.
Traders of Har-ki-Pauri mela zone, Moti Bazaar, said this year, a low turnout was witnessed, while barring 2013, when flash flood disaster had made a severe impact on pilgrim-tourist turnout in the state, in the past few years, this is the lowest turnout of pilgrims.
The district administration and mela administration had also made elaborate arrangements, expecting around 5 lakh devotees, but due to a moderate turnout, alternate traffic plans were not enforced.
Top Stories