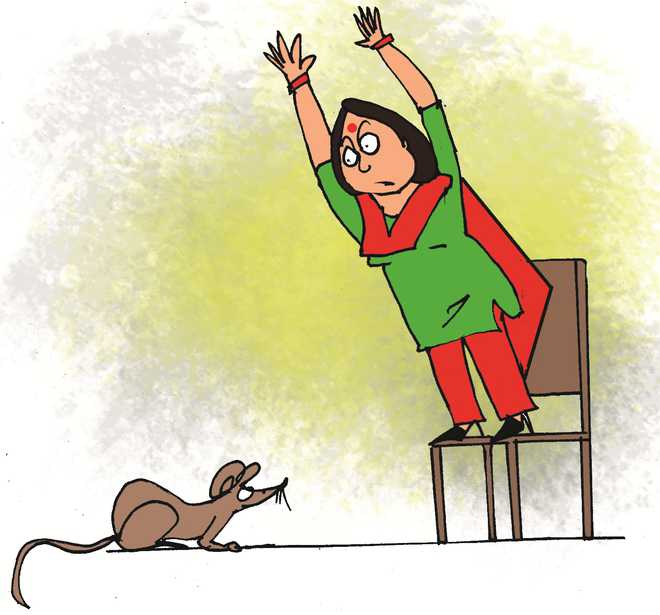 Aradhika Sharma
After a vigorous walk, I sauntered into the matriarch's house for dinner. I felt virtuous because I'd also watered the lawns, gathered and ironed the clothes and done sundry stuff. I was ready for the evening tele-serial and the meal routine with the parent.
"Ah! Here you are" she remarked, eyes glued to the TV, where she was watching (with unabashed adoration) Amitabh Bachchan conduct KBC. "No, no…don't sit. There's a mouse in the kitchen — go get rid of it"
Let me clearly document here that I'm a vermin hater. I believe that critters like cockroaches, lizards, rodents and snakes should confine themselves to their own habitat and not venture into human territory. Agreed, humans don't leave too much space for the survival of God's other beings but still, there are boundaries! Anyway, the mater had decreed that the home be cleared of Micky. The house help was on leave so that left just me to ensure the mouse-exodus. I entered the kitchen with the vain hope that Mr Mouse had disappeared. But no! It was jauntily perched atop a watermelon, friendlily waving its whiskers at me.
"Shoo-shoo..." I whispered hoarsely at the door. The mouse fixed its beady eyes on me and twitched its tail.
I gingerly stepped into the warzone, flapping a tiny napkin and clapping loudly. Micky leapt from the tarbooz and hid behind the oven. "I can see your tail, stupid mouse!" I cried. I dashed across the kitchen and held the door ajar: "Go away!" I said. No luck. Grabbing a broom, I jiggled it under the oven to sweep out the mouse.
He relocated to behind the toaster and peeked out. I had to admit that he was a sweet-looking fella. But I reminded myself sternly about the nasty, scary, antibiotic-resistant germs it may have picked up from some sewer and told him sternly: "Sorry pal, you gotta go!"
"Whom are you talking to?" materfamilias enquired. "Forever on the phone! Humph!"
Micky was now invisible, but I could hear him (laughing at me?). Determined to rid my home of it, I contemplated ways of elimination. My plan of instant death for Micky with a firearm was foiled because neither guns nor grenades were available on the Great Amazon Sale. A sticky mat was suggested, but the aching death that it caused unfortunate rodents sounded terribly inhumane. Poison, I knew causes slow, painful death, so I decided on the classic wood-trap.
The first morning I discovered that the mouse had eaten the bait and escaped. The second day I found a furious Micky outside the trap, with his tail trapped inside. I apologetically freed it. The third day, Micky was caught! I released it in local a rubbish dump. "Fare thee well, worthy foe!" I said.
That evening as I went into the kitchen to get an opener for a chilled, congratulatory beer, a pair of bright beady eyes regarded me from behind the gas stove. A tail twitched.
Micky was back!
Top Stories