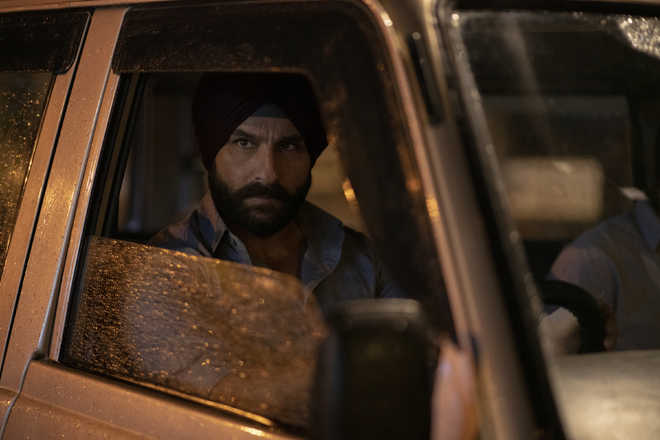 Gautaman Bhaskaran
Some of the greatest stories have rolled by in times of war, social strife, communal disharmony, political upheaval and other forms of turmoil. M. S Sathyu's unforgettable epic with the legendary Balraj Sahani explored an India during the bloody days of the 1947 Partition — when a Muslim family faced anger, hatred and ostracism. Margaret Mitchell's Gone with the Wind — the only novel the author wrote — which won the 1937 Pulitzer Prize for Fiction, and which was adapted to the big screen by director Victor Fleming with a starry cast of Clark Gable, Leslie Howard, Vivien Leigh and Olivia De Havilland was a tumultuous love story set against the gory battles of the American Civil War (1861 to 1865). There are other examples: Casablanca, Ben-Hur and even The Sound of Music spoke about conflicts and social uneasiness. And they all went on to become great classics.
It is quite possible that Netflix' original, Sacred Games, whose Season Two has just begun streaming, may also attain some sort of eminence because it has been scripted against some of the most worrying issues that India is facing today: Our 70-odd-year-old dispute with our neighbour, Pakistan, nuclear threat, terrorism, inter-religious animosity within India's borders, corruption in the higher echelons of political power and godmen, who in the garb of holiness and fool and harm naive followers. Sometimes, the parallels which Sacred Games 2 draws are apt. Like, for instance, those between onscreen Sulaiman Isa (Saurabh Sachdeva) and a gangster India has been hunting for or between Pankaj Tripathi's Khanna Guruji and some of the infamous ones here at home.
Directed by Anurag Kashyap (Black Friday, Gangs of Wasseypur) and Neeraj Ghaywan (whose Masaan premiered at Cannes 2015) and adapted from Vikram Chandra's 2006 novel, Sacred Games 2 has been tweaked quite a lot. The novel is slow, and the web-series writers have infused thrills, though a few of them are quite unnecessary. Some of the scenes at Guruji's swanky ashram seem stretched, and the series itself is peppered with coincidences — a bane of Indian visual medium.
However, performances lift the series. Nawazuddin Siddiqui is in top form as a brutal thug, Ganesh Gaitonde, and Season 2 begins with him escaping from prison and finding himself in Mombasa, having been carted there by an agent of India's Research and Analysis Wing, Kusum Devi Yadav (wonderfully done by Amruta Subhash), who wants him to help her find Shahid Khan (Ranvir Shorey), the mastermind behind the 1993 Bombay blasts and the Kandahar Air India hijacking in 1999, among other terror acts. As much as Siddique is riveting, he is being typecast, and something gets lost here.
Saif Ali Khan is brilliant as Inspector Sartaj, who, along with his team, is desperate to find a nuclear bomb that Gaitonde had warned him about in Season One. As Sartaj grapples with his marital rift with wife, Megha (Anupriya Goenka), he conveys the pain of loneliness and the anxiety of wanting to save his beloved Mumbai. Even Gaitonde is in love with the city, and would not want it to be destroyed.
But Guruji and his chief disciple, Batya Ableman (Kalki Koechlin), believe that only such a catastrophic destruction can help cleanse the society and create a saner new order. Only then will this Kalyug end! And his executer is Khan, and the final moments of the eight episodes are fraught with sheer dread. Will Sartaj be able to defuse the bomb?
We will only know this presumably in Season Three. But one wishes that Sacred Games will in future tone down its crude dialogues and not go overboard with its doomsday atmosphere.