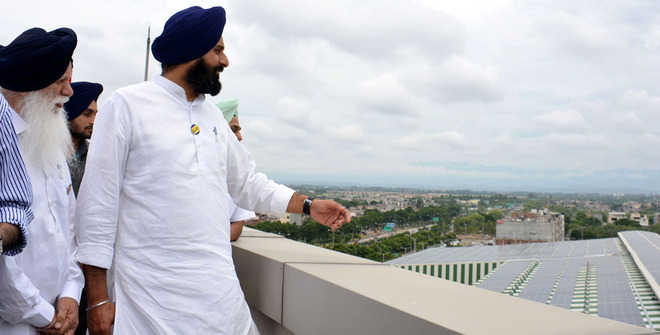 Our Correspondent
Mohali, July 27
The state today achieved a solar milestone with the inauguration of the country's second largest single rooftop 2 MW project here besides the inauguration of eight other projects with a total capacity of 10 MW by New and Renewable Energy Minister Bikram Singh Majithia.
Majithia inaugurated a total of 10 MW solar photovoltaic (SPV) rooftop power plants at an investment of Rs 70 crore. These power plants have been installed by Azure across nine places in the state.
The minister, who was accompanied by Agriculture Minister Tota Singh, inaugurated the rooftop projects from the New Fruit and Vegetable Market here.
He said the latest installations, coupled with the earlier capacity of 58.5 MW, had consolidated Punjab's position as the number one state in SPV rooftop power plants. "We realised that we don't have any idle land and needed to capitalise on our strengths rather than aping others. This resulted in the world's largest rooftop solar power project with a capacity of 19.5 MW coming up at Dera Beas in Amritsar. Today's projects have further strengthened our position as pioneers in rooftop projects in the country," he added.
Azure Power chairman HS Wadhwa said the new power plants were installed at 2 MW at the New Fruit and Vegetable Market, Mohali, 1.85 MW at the ITC warehouse, Chunni Kalan, 1.6 MW at the TATA warehouse, Morinda, 1.25 MW at the Skyross PEPSICO warehouse, Channo, 0.76 MW at the New Vegetable Market, Ludhiana, 1.25 MW at the Godrej warehouse, Zirakpur, 0.63 MW at the New Grain Market, Mansa, 0.6MW at the CA vegetable fruit stores, Kharar, and 0.55 MW at the Reliance warehouse, Fatehgarh Sahib.