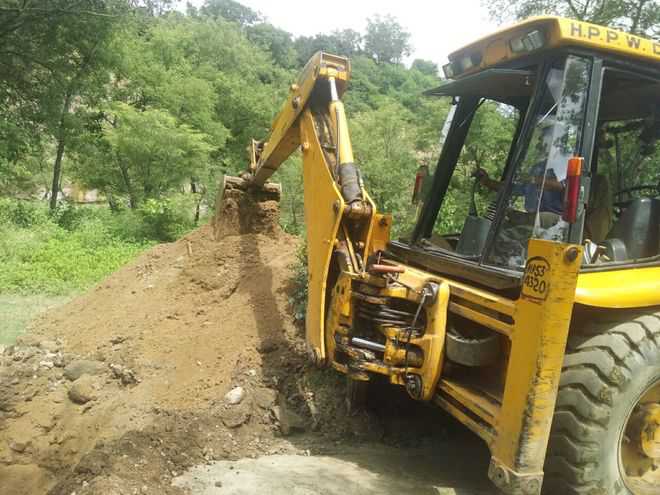 Ravinder Sood
PALAMPUR, August 21
In view of the serious note taken by Himachal Pradesh High Court pertaining to large-scale illegal mining, the local administration today dismantled more illegal roads constructed by the mining mafia leading to the Neugal riverbed.
SDM Ajit Bhardwaj along with DSP Palampur Vikas Dhiman with the help of heavy police force and Public Works Department dismantled half a dozen illegal roads constructed by the mining mafia in Sulaha and Palampur areas. JCB machines were pressed into service to bulldoze the roads.
The SDM said illegal mining would not be allowed in Neugal river at any cost. If anybody was caught indulging in it stringent action would be taken. He said police had been advised to keep a regular vigil on illegal activities, if any. He said persons involved in illegal mining would be booked under the provisions of the Indian Penal Code.
The Himachal High Court has treated a news item published in these columns last week as a PIL and issued notices to the Chief Secretary, Deputy Commissioner Kangra, SDM and DSP Palampur to file a status report on August 24 before the bench comprising Chief Justice Mir Ahamand Mansoor and Justice Trilok Singh.
Following high court's intervention the administration has geared up its campaign against the illegal mining in Neugal river between Palampur and Alampur.
The state government has already imposed a complete ban on illegal mining which was going on unchecked in the area under political protection.
In the past two years, government officers had remained apathetic to the mining mafia and large-scale mining was reported over 35-km stretch of Neugal river between Palampur and Alampur. In most of the cases of illegal mining nominal penalties were imposed.
Since the matter is now in the HP High Court administration has been working with full force to control the illegal mining.
Top News
According to Rushdie's agent Andrew Wylie, nerves in his arm...
Natwar was Minister of State for External Affairs when Rushd...
All the four employees were dismissed from service under Art...
State government issues notification, move expected to save ...
The exam was postponed for 11,000 candidates to accommodate ...