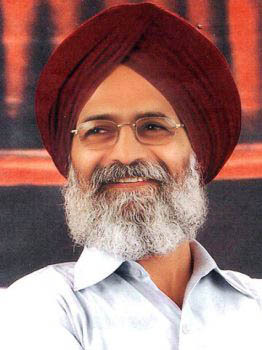 Sarbjit Dhaliwal
Tribune News Service
Chandigarh, October 12
Eminent Punjabi writers Surjit Patar, Jaswinder Singh, Baldev Singh and Dr Chaman Lal today returned their Sahitya Akademi awards to protest the muzzling of freedom of thought and civil liberties.
Patar is a big name in the Punjabi literature and is considered one of the most sensitive poets. His works have been translated in several languages.
Darshan Buttar was given the Sahitya Akademi Award in 2012 for his book "Mahan Kambani". Buttar said he had returned his award to protest the violent attacks on progressive and rationalist writers in the country. He said destructive forces were out in the streets to silence the voice of reason and intellect. "We are prepared to fight such forces with our might and would not yield to them," he said. The process of "saffaronisation" of all walks of life required to be halted, he said.
Patar was awarded with Sahitya Akademi Award in 1993 for his poetry book "Hanere Vich Sulgadi Varnmala.
In a statement, Patar said: "The practice of killing writers and thinkers in our multilingual, multicultural and multi-religious country is disheartening. It is more tragic that killers managed to escape under the shelter of corrupt politicians. It is heartbreaking that our prominent literary body Sahitya Akademi maintained silence on the killings of people for their divergent thought. With a heavy heart, I am going to return the Akademi award to express my grief and support the movement for freedom of expression."
Similar views were expressed by Baldev Singh, an eminent writer, who has authored books about the truckers. He is an established name in Punjabi literature. Jaswinder Singh, a popular gazal writer, who is settled in Canada, got the award in 2014 for his book "Aggarbati". While returning the award, he said he supported other writers and upheld the freedom of thought and views. He said forces which were working against the freedom of thought needed to be told that they would never succeed in their designs.
Dr Chaman Lal, who was given award for translating the works of revolutionary poet Pash in Hindi, said a counter movement would be launched soon against the people who were spreading hatred and issuing threats to voices of logic and reason. He said those believed in freedom of expression and idea would soon come on one platform and launch a protest movement against those who were making minorities their target.
He said writers were considered protectors of civil liberties and they would leave no stone unturned to discharge their duty.
Top News
She is administered the oath of office on Tuesday morning
AAP and Bharat Rashtra Samithi, however, say no to discussio...
Soon after the House meets at noon after the first adjournme...
A man who was in the court to attend a hearing attacked alle...
The three artistes -- Adam Berry, Gurujas and Harijiwan -- a...