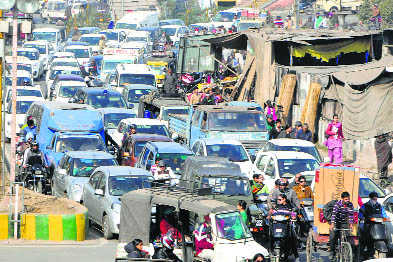 Manish Sirhindi
Tribune News Service
Patiala, February 17
Even as the directives issued by the National Green Tribunal (NGT) to ban plying of 15-year-old petrol and diesel vehicles in the National Capital Region (NCR) are yet to be enforced, Punjab is contemplating drafting a policy to thwart 'dumping' of such vehicles in the state.
In November 2014, the NGT had ordered banning 15- year-old vehicles from plying on NCR roads. On April 8 last year, the NGT had issued a fresh ban on all 10 –year- old diesel vehicles from plying in the NCR. The implementation of the order is currently in abeyance by the tribunal, which awaits "reasoned and scientifically supported views" on the issue by the Central and state governments.
In October, last year, the Supreme Court had dismisses a PIL filed against the NGT's directives and had upheld that the tribunal was empowered to issue directives in this regard.
These developments prompted the Punjab Pollution Control Board (PPCB) to take up the issue of 'dumping' of old vehicles in the state with the Union Ministry for Transport and also wrote to the state transport authorities to draft a policy to check the same.
Chairman of the Punjab Pollution Control Board, Manpreet Singh said it had been suggested that no old vehicles from the NCR be registered in the state. "This would not only increase the number of vehicles on state roads adding to the traffic problems, but would also increase pollution levels," he said.
"Once the NGT ban is imposed in NCR, a large number of old vehicles that do not conform to new emission standards would be sold at low prices to buyers in neighbouring states, including Punjab. They would not be allowed to run in the state," he added.
Top News
Says the meltdown of Adani Group would not impact country's ...
The regulator says committed to ensuring market integrity; m...
Appointments come amidst strong observations by a Supreme Co...
Firm exported two consignments of 24 batches of the allegedl...
Over 100 members of 19 families were evacuated after their h...