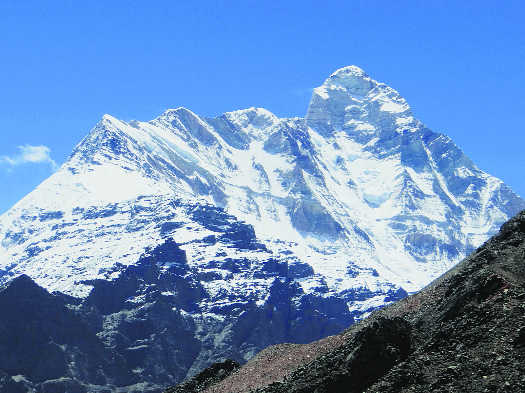 Jotirmay Thapliyal
Tribune News Service
Dehradun, August 30
Around 7 to 8 hectares of forests have been lost in the Nanda Devi National Park in the last one decade either due to climate change or the Kedarnath flash floods of 2013.
This brich (bhojpatra) forest area, near the Deodi top in the Nanda Devi National Park, no more exists. This was revealed in the recent decadal survey of the park undertaken by scientists and foresters. While this forest existed in 2003, the 2015 survey reveals that around 7 to 8 hectares of the Bhojpatra forest has disappeared.
Dr BS Adhikari, a senior scientist at the Wildlife Institute of India who was part of the survey team, asserts that the vanishing forest is a matter of a detailed study. "It could be due to the Kedarnath rain disaster or other factors relating to climate change,"he says.
Interestingly, some shrubs like cotoneaster and juniper have reportedly migrated upwards in the Nanda Devi Park primarily due to rise in the temperatures. These key shrub species of Uttarakhand that are found in the alpine regions are reportedly migrating upwards to higher hills for cooler climes.
While the species that are relocating themselves to higher areas are alternating their breeding times, those that are unable to adapt face extinction.
According to Dr Kshirod Kumar Ratha, a research officer at the Regional Research Institute of Himalayan Flora, the Ranikhet region with higher elevations is more vulnerable to the bad effects of climate change. Alterations in the alpine ecosystem, habitat fragmentation, shifting range of distribution, changing life cycle, development of new traits, change in behaviour pattern and invasion of new species are some of the effects of climate change.
Uttarakhand has varied tree species that grow at various elevations. Between 1,500 m and 3,000 m high regions, pine, oak, rhododendron and walnut are among the major natural vegetation.
Top News
Terms UPA 2004-14 period a 'lost decade', hit by scams | Ste...