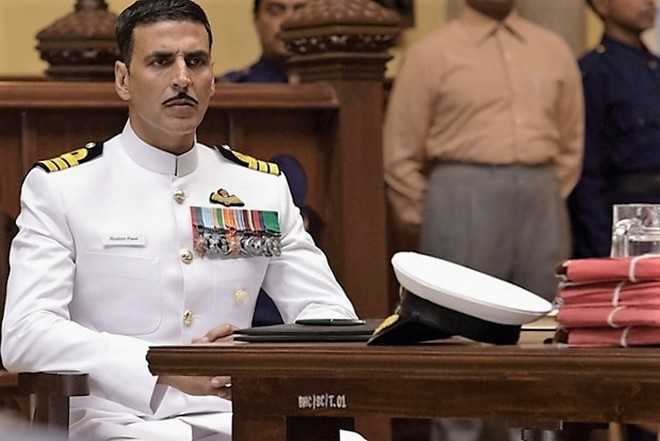 New Delhi, April 7
Bollywood star Akshay Kumar was named the best actor for his portrayal of a patriotic naval officer in "Rustom" at the 64th National Film Awards, where Marathi movie "Kasaav" led the regional cinema dominance bagging the best feature film honour.
The awards, which were spread out in Tamil, Telugu, Bengali and Marathi languages, saw Bollywood movies like "Pink", "Neerja" and "Dangal" score in key categories.
"Rustom", a court room drama directed by Tinu Suresh Desai, is loosely based on the 1959 Nanavati murder case.
(Follow The Tribune on Facebook; and Twitter @thetribunechd)
Akshay, 49, took to Twitter to express his gratitude over his surprise win.
"Thank you is a very small word right now but I don't know how else to express how I am feeling right now... 'Rustom' was a very special role to play. Being able to wear the uniform of Indian Navy itself is a huge honour, even if it's just for a role," Akshay said in a video message to his fans.
The actor said Sonam Kapoor, who received a special mention for her role in "Neerja", was shooting with him and it was a double celebration for them on the sets of "Padman".
"Neerja", directed by Ram Madhvani, was named the best Hindi film. It is based on the 1986 hijacking incident during which flight attendant Neerja Bhanot was killed by terrorists while saving passengers.
"This is huge. Here is to Neerja Bhanot and her family," Madhvani told PTI.
Amitabh Bachchan-starrer "Pink", a female-centric court room drama, won the award for best film on social issues.
Producer Shoojit Sircar dedicated the award to his team and Bachchan, saying it would not have been possible to make the female-centric drama without the actor's support.
Kashmiri actress Zaira Wasim was chosen as the best supporting actress for her role in the Aamir Khan-starrer "Dangal", while Nagesh Kukunoor's "Dhanak" was named the best children's film.
Ajay Devgn's "Shivaay" won the best special effects.
The 11-member jury, headed by Akshay's frequent collaborator, filmmaker Priyadarshan, named Surabhi C M as the best actress for her role in Malayalam film "Minnaminungu-The Firefly".
"I never expected this award. I expected only a jury mention. I am extremely happy and stunned," Surabhi, who is away in Muscat as part of a programme, said.
"Kasaav", this year's best feature film winner by Sunil Sukhtankar and Sumitra Bhave, revolves around the issue of depression and environment conservation.
The film's team is hopeful that the win will give the movie a much-deserved boost ahead of its release.
"'Kasaav' got the best film award which is a great thing but another point of happiness is that the film deals with the theme of depression. The award definitely gives a boost to Marathi cinema. It is a proud moment for us," co-director Sunil Sukthankar told PTI.
Besides "Kasaav", Rajesh Mapuskar won the best director award for his film "Ventilator". The movie, produced by actress Priyanka Chopra and her mother Madhu, won three awards.
"Ventilator" also won the best editing and the best final mixed track award.
The National Film Awards will be handed out to the winners by President Pranab Mukherjee in a ceremony on May 3. — PTI
Best Feature Film: "Kasaav" (Marathi)
Best Direction: Rajesh Mapuskar for "Ventilator"(Marathi)
Best Actor: Akshay Kumar for "Rustom" (Hindi)
Best Actress: Surabhi C.M for "Minnaminungu – the Firefly" (Malayalam)
Best Supporting Actor: Manoj Joshi for Dashakriya (Marathi)
Best Supporting Actress: Zaira Wasim for "Dangal" (Hindi)
Best Child Artist: Adish Praveen for "Kunju Daivam" (Malayalam); Nur Islam and Samiul Alam for "Sahaj Pather Gappo" (Bengali) Manohara. K for "Railway Children" (Kannada)
Best Male Playback Singer: Sundharayyar for song Jasmie E from film "Joker" (Tamil)
Best Female Playback Singer: Iman Chakraborty for song Tumi Jaake Bhalo Basho from film "Praktan" (Bengali)
Best Cinematography: S. Thirunavukarasu for "24" (Tamil)
Best Screenplay: Screenplay writer (original): Syam Pushkaran for "Maheshinte Prathikooram" (Malayalam); Screenplay Writer (Adapted): Sanjay Krishnaji Patil for "Dashakriya" (Marathi); Dialogues: Tarun Bhascker for "Peli Chuplu" (Telugu)
Best Audiography: Sound Designer: Jayadevan Chakka Dath for "Kaadu Pookkunna" Neram (Malayalam); Re-recordist of the final mixed track: Alok De for "Ventilator" (Marathi)
Best Editing: Rameshwar for "Ventilator" (Marathi)
Best Production Design: Subrata Chakraborthy, Shreyas Khedekar and Amit Ray for "24" (Tamil)
Best Costume Designer: Sachin Lovalekar for "Cycle" (Marathi)
Best Make-up Artist: NK Ramakrishna for "Allama" (Kannada)
Best Music Direction (Songs /Background Score): Bapu Padmanabha for "Allama" (Kannada)
Best Lyrics: Vairamuthu for song Entha Pakkam from film "Dharma Durai" (Tamil) and Anupam Roy for Tumi Jaake Bhalo Basho from "Praktan"(Bengali)
Special Jury Award: Mohan Lal
Best Choreography: Raju Sundaram for "Janatha Garrage"(Telugu)
Best Special Effect: Naveen Paul for "Shivaay" (Hindi)
Best Animation: "Mahayodha Rama" (Hindi)
Best Children's Film: "Dhanak"
Best Film Social Issues: "Pink"
Nargis Dutt Award For Best Feature Film on National Integration: "Dikchow Banat Palaax"
Best Popular Film Providing Wholesome Entertainment: "Sathamanam Bhavathi" (Telugu)
Indira Gandhi Award For Best Debut Film of Director: Deep Choudhury for "Alifa" (Bengali)
Best Action Direction: Peter Hein for "Pulimurugam"(Malayalam) Best Film On Environment Conservation/ Preservation: "Loktak Laire"
SPECIAL MENTION: Sonam Kapoor for "Neerja" (Hindi); Adil Hussain for "Mukti Bhawan" (Hindi) and Maj Rati Keteki (Assamese); Producer Red Carper Moving Pictures and director Shubhashish Bhutiani for "Mukti Bhawan" (Hindi); Producer Eleeanora Images Private Ltd and director Nila Madhab Panda for "Kadvi Hawa" (Hindi)
Best Feature Film in each of the language specified in the Schedule VIII of the Constitution
Best Assamese Film: "Maj Rati Keteki"
Best Bengali Film: "Bisorjon"
Best Hindi Film: "Neerja"
Best Kannada Film: "Reservation"
Best Konkani Film: "K Sera Sera –Ghodpachen Ghoddtelem" Best Malayalam Film: "Maheshinte Prathikaaram" Best Marathi Film: "Dashakriya"
Best Telegu Film: "Peli Chuplu"
Best Gujarati Film: "Wrong Side Raju"
Best Tamil Film: "Joker"
Best Feature Film in each of the languages other than those specified in Schedule VIII of the Constitution
Best Moran Film: "Haanduk"
Best Tulu Film: "Madipu"
Top News
Security forces had on Sunday located a group of two to thre...
Iqbal Singh Lalpura included in both key committees -- parli...
Centre tells SC that it's in active discussion with FIFA to ...
India has never been defensive about its stand on buying Rus...
Meets sub-inspector Dilbagh Singh outside whose house the IE...