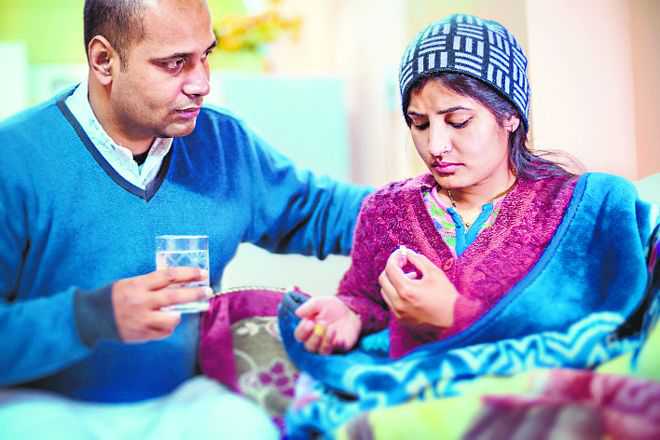 Lifestyle diseases or chronic non-communicable diseases (NCDs) are rising alarmingly all over the world, including India. Characterised by long duration and slow progression, these diseases contribute globally to an estimated 38 million deaths annually.
In India, these diseases are now the leading cause of death, causing every year 6 million (63% of total 9.6 million) deaths. Commonest of these are cardiovascular diseases, followed by chronic lung diseases, cancers and diabetes. According to the International Diabetes Federation, India ranks second in the world in terms of total number of persons affected by diabetes — an estimated 63 million. One in every 12 adults in India has diabetes.
These diseases are closely related with national economic development and poverty. By 2030, India is estimated to lose nearly 18 million potentially productive years of life. This means a huge loss of productive man-years and expenses on care and treatment. In an era of skyrocketing healthcare expenses, lifestyle diseases are already exacerbating poverty and social inequities. Having to meet the expenses from one's own pocket, 60 million people are pushed to poverty every year because of illness and associated medical costs.
The silent epidemic is caused by four shared and modifiable risk factors — tobacco use, unhealthy diet, lack of physical activity, and harmful use of alcohol,which are fueled by forces such as globalisation, rapid urbanisation, ageing population, changing lifestyles and widening inequities in society.
Consumption of processed food rich in sugar, salt, and unhealthy fats instead of home-cooked food is resulting in rapid increase in the number of overweight people at risk of lifestyle diseases. On the other hand, nearly 80 per cent of the population does not eat enough fruits and vegetables and a quarter of the population does not have sufficient physical activity. Modernisation and industrialisation are leading to a sedentary life with limited physical activity at the workplace and at home.
Recognising the increasingly high burden of NCDs and its economic consequences, India joined 191 other countries in the UN General Assembly (UNGA) in 2011 in making a commitment to accelerate national and international response to these diseases. The World Health Assembly had in 2012 set a target of reducing NCD mortality rates by 25 per cent by 2025 (referred to as '25 by 25' target) and the initiative is now part of the sustainable development goals (SDGs).
In India, the Ministry of Health and Family Welfare launched the National Programme for Prevention and Control of Cancer, Diabetes, Cardiovascular diseases and Stroke (NPCDCS) on January 4, 2008, on a pilot basis, which was expanded to 100 districts spread over 21 states; it was scaled up to the whole country in 2015. However, with only 3 per cent of the meagre health budget allocated for the prevention and control of these diseases, one is doubtful whether the targets included in the SDGs can be achieved by 2030.
Myths and facts
There are many myths that still persist, hindering the recognition of these diseases as a health and development issue and effective implementation of the national programme.
Myth #1: Lifestyle diseases or NCDs are diseases of the rich; the poor do not need to worry about them.
In reality, the poor are disproportionately affected by these diseases; they are not only at greater risk due to higher prevalence of risk factors but when sick are not able to access appropriate healthcare. The high out-of-pocket expenses drive many families to poverty from which they cannot escape. Furthermore, nearly 80 per cent of the deaths due to lifestyle diseases occur in low and middle-income countries.
Myth #2: These diseases mainly affect older people.
While lifestyle diseases are linked with ageing, more than 50 per cent of the burden falls on people younger than 70 years. Moreover, in many Asian countries, including India, the onset of diabetes, heart disease and cancers occurs at a younger age — at least 10 years younger than in the Western countries. More and more children are now developing obesity-related diseases.
Myth #3: Lifestyle diseases are too difficult and expensive to tackle effectively.
Preventing lifestyle diseases means having to bring about lifestyle changes, which are both affordable and effective. These interventions include controlling the four major risk factors — tobacco use, consumption of alcohol, physical inactivity and unhealthy diet. Studies show that these strategies when applied at the community/population and individual levels even in developing countries can prevent 80 per cent of the heart disease and diabetes.
In addition, medications for high blood pressure are effective and do not cost much, although access to these medicines need to be enhanced. Liver and cervical cancer can be prevented by Hepatitis B and Human Papillomavirus vaccination, respectively, which are both part of the national immunisation programme.
Myth #4: Even if there are effective interventions, developing countries cannot afford them.
There are already many successful initiatives underway in developing countries which demonstrate that we can rapidly expand access to comprehensive services for lifestyle diseases. Most countries, including India, have formulated national plans and set up mechanisms for the implementation of these programmes. A set of indicators and targets have also been identified to monitor progress. Recently, a nation-wide survey has been carried out in India to measure the prevalance of risk factors and the health system capacity. Such data can help further refine national policies and strategies, and monitor progress over time.
Myth #5: As slow-progressing diseases, these do not represent a health crisis for the present generation and hence do not require urgency.
In fact, there is enormously compelling evidence that we are already in the midst of a chronic disease epidemic, and their mitigation is something we cannot afford to postpone. The action must be taken now and without further delay. If not, with business as usual, the World Economic Forum estimates their global cost will reach $30 trillion in the coming two decades.
Lifestyle diseases are preventable and manageable conditions, and even curable, if detected early. The strategies basically consist of: (1) disease prevention by modifying/changing risk behaviors, including through use of inter-personal communication approaches; (2) early detection through screening; and (3) clinical management of those already afflicted with the disease.
Three-pronged approach
1Disease prevention requires population-wide health promotion and creation of public awareness about the harmful effects of tobacco use and alcohol, and the importance of a healthy diet. Quitting the use of tobacco, both smoking and smokeless, can help prevent chronic diseases both among users of tobacco as well as those exposed to passive smoking. Engaging in physical activity such as walking, cycling, sports and other recreational activities, for at least 30 minutes per day, significantly reduces the risk.
The healthy diet-related changes include switching over from the use of saturated fats to unsaturated fats and eliminating the intake of transfats; reducing intake of sugar and salt; and increasing consumption of fruits and vegetables. Food items such as jalebi and pakoras, fried in dalda or vanaspati, have high transfat content. Soft drinks and fruit juices have high sugar content, while processed food such as pickles and chips contain a lot of salt. These items should be avoided. A diet that moves away from white, refined wheat flour to the use of coarse grain and millets, and from polished rice grain to coarse grain, is considered healthy.
Besides mass awareness, a well thought-out communication strategy and action plan should stress on advocacy with policy-makers, sensitisation and skill development of health service providers, and education about lifestyle diseases in educational institutions such as schools and colleges, and at the workplace.
In addition to health promotion, legislation can play a vital role in primary prevention. This includes increasing tobacco and alcohol tax, health warnings on tobacco packs, restricting or banning smoking in public places, and a comprehensive ban on advertising, promotion and sponsorship of tobacco and alcohol. Discouraging marketing of foods high in salt, fat and sugar can be effective in reducing these diseases. But these laws must be enforced effectively.
2Diseases such as cancer or heart disease can be cured, provided they are detected early. The government has initiated a screening programme in the country for the early detection of heart disease and three common cancers — breast, cervix and mouth — as well as high blood pressure.
Promoting proactive early detection such as through annual health check-ups by those 40 years or above, and provision of low-cost diagnostic technologies and essential medicines at the primary healthcare level has the greatest potential for reversing the progression of disease, preventing complications, reducing hospitalisation, healthcare and out-of-pocket expenditure. Screening is important for early detection because 70-80 per cent of those with the disease are unaware of their condition and thereby remain undiagnosed.
3In spite of the prevention efforts, there are many people who already have or would develop chronic diseases over time. They need treatment and follow-up on an ongoing basis. While the disease may have to be diagnosed in an institution, the care has to be provided at the community and home levels, as a part of a continuum of care. This requires linking institutions with health centres and the community.
Besides medical care, social protection schemes can help ensure access to healthcare of some quality, without fear of a financial catastrophe. For this, the health system capacity such as financing, staffing and medical supplies must be strengthened, based on the principles of primary healthcare, equity and social justice. While 70 per cent of India's population lives in rural areas, only about 40 per cent of health workers are working in rural areas. Moreover, innovative methods, including the use of modern technology, can help in the effective delivery of health services closer to the patient's home and for ensuring treatment adherence.
Govt initiatives
Ayushman Bharat or Prime Minister's Jan Arogya Yojana (PM-JAY) scheme launched recently by the government is a game-changing initiative. Under the scheme, the poor families are entitled to an insurance cover of Rs 5 lakh per family per year for tertiary care. This enables the families to obtain health services without the fear of paying from the pocket. The second arm of the Ayushman Bharat scheme — converting sub-centres and primary health centres into health and wellness centres — if prioritised and funded adequately, has the potential to transform primary healthcare in the country. In other words, everyone, everywhere could have an opportunity to have equitable access to healthcare of good quality, without fear of financial hardship.
In the election season, it is hoped that the political leaders of all parties would consider prevention of lifestyle diseases a high priority and strive to creating public awareness about these diseases, their risk factors, and prevention. They should promise and make a commitment to pass legislations that promote the availability and intake of vegetables, fruits and whole grains, and discourage marketing/consumption of unhealthy food, beverages and behaviour such as smoking and harmful use of alcohol. And finally, ensure that counselling and health promotion services, testing facilities and essential medicines are available under Ayushman Bharat in each health and wellness centre for early diagnosis and treatment.
To fight lifestyle diseases, political will and leadership is required at all levels. Without a sustained political commitment by the government at the state, district and panchayat levels, and the wholehearted participation of other sectors, including the community, the disease prevention strategies can neither be implemented effectively nor the rising trend of chronic lifestyle diseases reversed.
The author is former Regional Adviser & Director, World Health Organisation
Risk factors
Reducing the major risk factors for non-communicable diseases (NCDs) — tobacco use, physical inactivity, unhealthy diet and the harmful use of alcohol — is the focus of WHO's work to prevent deaths from NCDs.

NCDs — primarily heart and lung diseases, cancers and diabetes — are the world's largest killers, with estimated 38 million deaths annually. Of these deaths, 16 million are premature (under 70 years of age). If we reduce the global impact of risk factors, we can go a long way in reducing the number of deaths worldwide.

The burden of NCDs falls mainly on developing countries, where 82% of premature deaths from these diseases occur. Tackling the risk factors will not only save lives, but will also provide a huge boost for the economic development of countries.
Tobacco menace
Implementing the key elements of the WHO Framework Convention on Tobacco Control have been found cost-effective. These include increasing taxes, comprehensive legislations creating smoke-free indoor workplaces and public places, health information and warnings about the effects of tobacco, and banon advertising, promotion and sponsorship.
Harmful alcohol use
Reduction in the harmful use of alcohol not only prevents cancers and cardiovascular diseases, but also prevents conditions like liver cirrhosis, depression and road traffic injuries. Enhanced taxation of alcohol beverages and comprehensive bans on their advertising/ marketing have proved to be beneficial.
Unhealthy diet
Excessive salt intake is related to raised blood pressure. Reducing salt content in food is an effective strategy. The use of added salt should be discouraged. In India, we need to address both homemade and processed food. Population-based approaches include reaching out through mass media campaigns. Use of polyunsaturated fats as cooking medium, along with avoiding transfats, is also recommended.
Physical inactivity
Physical activity promotes healthy lifestyle and lessens the risk of NCDs. It fosters physical and mental wellbeing.
Indoor air pollution
The dependence on solid fuels (coal, wood, animal dung, crop wastes) and traditional stoves for cooking and heating leads to high levels of indoor air pollution. This increases the risk of childhood pneumonia, chronic lung disease and lung cancers. In addition to tobacco control, reducing indoors air pollution is the most important strategy for preventing chronic lung disease, particularly in non-smokers.
Global Action Plan
To strengthen national efforts to address the burden of non-communicable diseases (NCDs), the 66th World Health Assembly endorsed the WHO Global Action Plan for the Prevention and Control of NCDs-2013-20. The global action plan offers a paradigm shift by providing a roadmap and a menu of policy options for Member States, WHO, other UN organisations and intergovernmental organisations, NGOs and the private sector which, when implemented collectively between 2013 and 2020, will attain 9 voluntary global targets, including that of a 25% relative reduction in premature mortality from NCDs by 2025.

The WHO Global NCD Action Plan 2013-20 follows on from commitments made by governments in the United Nations Political Declaration on the Prevention and Control of NCDs, recognising the primary role and responsibility of governments in responding to challenge of NCDs and the important role of international cooperation to support national efforts.
Source: World Health Organisation